Myth One:
You did not have damage to your car, so how can you be injured?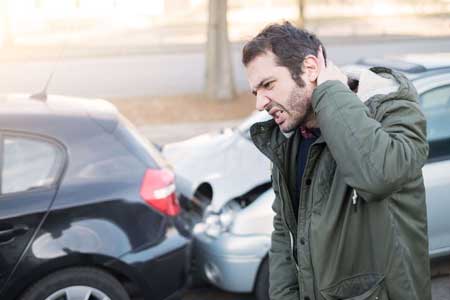 This is likely the number one myth troubling accident victims today. However, Lack of damage does not mean you are not injured. The insurance company would disagree. They see damage as a direct relation to injury. Studies have shown the body takes most of the force transferred in a low impact accident. Here is something you might not know. Bumpers on most of our cars were designed to tolerate impacts without damage.
Do not allow lack of damage to your car stop you from seeing an accident doctor. If you are hurt, go see a doctor. Lack of damage will make for a tougher case to prove injury, but this is why we have the best Lawyer in your area that can help you with this.
Myth two:
I was wearing a seat belt, how can I be Hurt?
Seat belts were designed to keep you from getting killed in a car wreck. Not prevent injury. They keep you from crushing your chest on the steering wheel in the event of a head on collision. They keep you from getting tossed about in a roll over. Seat Belts do not protect your neck and back in an accident. You can actually get hurt or killed while wearing a seatbelt.
When you get hit, the seat belt restrains you, your body goes forward and your shoulder will take much of the force. This would probably cause a shoulder issues. An accident doctor will help you document low impact injuries.
Myth Three:
I had no pain right after the Car Accident
It's normal for pain to not show up for quite some time after an incident. You need to go see an accident doctor within 72 hours of the car wreck. For many patients this delay can cause confusion. Normally when you cut your finger, you have pain immediately. Sometimes in car wrecks, pain comes later. Muscles, tendons, and ligaments for unknown reasons may take some time to show up.
Adrenaline has been shown to be a factor. After a car wreck, your body might release its natural pain killers. It might take a few days for this to wear off. When it does, it will feel like you were run over by a truck. Normally this happens between 24-48 hours of the car wreck. Sometimes it can take longer.
Myth Four:
I'll just take some aspirin and rest, the pain will go away
Pain from a car crash might go away, after about 3 months of steady treatment from an accident doctor. Car accident issues are a lot different from other trauma. Pain just doesn't go away. It might linger on for quite some time. It's very important after a car wreck to see an accident doctor. An accident doctor can determine the extent of your medical issues. They can treat the injury itself and take away the pain.
Myth Five:
I'll wait before seeing a doctor
Unfortunately that may come days or weeks later. And, when you do see a doctor at that time, you may not get your medical expenses covered. It's hard to justify seeing a doctor if you don't feel any pain or discomfort. However, the downside is you may not be able to make the insurer pay for your medical cost. We always say to see the doctor right away, there is good reason for this. A doctor can exam and find these issues early and start treatment right away. Waiting will only cause issues for you and your claim.
An accident doctor can get you back on your feet and back to work. Don't Wait; see a doctor today if you have been hurt. Your health is too important. A doctor listed on our website are the best at what they do, they specialize in car wreck injuries. Let us help you get back on your feet. You can find a Doctor right now