Many people believe that the police are required to give the person who was at fault for a car accident a citation or ticket. However, in most police communities it is officers discretion if they write a citation or ticket in a car accident. Receiving a citation for a car accident does mean you were at fault, unless you believe you are not. Interestingly enough, we have something called contributing factors on a police report. These contributing factor boxes assign blame if there was no citation issued.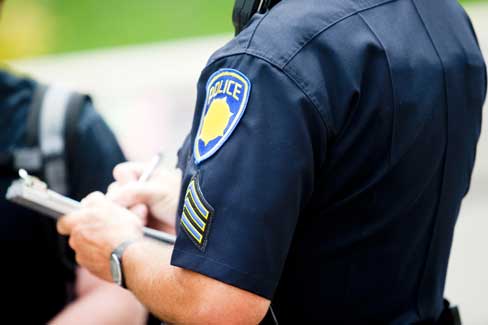 Accident reports-Contributing factors
What are contributing factors? Contributing factors means you caused the car accident. Or, you played no role in the accident at all. If you have ever seen a police report, you will see little numbers in boxes at the bottom of it. The numbers all have a meaning. Most, are not that important. However, contributing factors are the most important. If you have a 1 in the box, you are good. One, in every police entity i have seen, means none. This means you contributed nothing to the cause of the car accident. Anything other than a one is not good.
What do all the numbers in contributing factors mean.
1 – No Contributing Factors
2 – D.U.I.
3 – Following Too Close
4 – Failed to Yield
5 – Exceeding Speed Limit
6 – Disregard Stop Sign/Signal
7 – Wrong Side Of Road
8 – Weather Conditions
9 – Improper Passing
10 – Driver Lost Control
11 – Changed Lanes Improperly
12 – Object Or Animal
13 – Improper Turn
14 – Parked Improperly
15 – Mechanical Or Vehicle Failure
16 – Surface Defects
17 – Misjudged Clearance
18 – Improper Backing
19 – No Signal/Improper Signal
20 – Driver Condition
21 – Driver's Vehicle
22 – Too Fast For Conditions
23 – Improper Passing Of School Bus
24 – Disregard Police Officer
25 – Distracted
26 – Other
In most cases, anything other than one on contributing factors is bad. This means you contributed something to cause the accident. However, there is a more contributing factor we have not discussed, it's the dreaded 26, which means other.
What does 26 mean on contributing factors?
When you get a 26 on contributing factors and no citation this means the officer can not determine liability in the accident. Or, he has no idea why the driver, based on witness, driver account's and evidence, caused the accident.
What if both parties received no citations but both received a 26 (other)
Both parties receiving a 26 or other in the contributing factors box is a sticky situation. This means, the officer could not determine who was at fault, so he just has decided to put other in contributing factor boxes for both parties involved and let the insurance companies decide. Furthermore, the officer had no witness to collaborate stories or the stories did not match the evidence at the scene. And, he can't decide who was at fault. This is a situation that you do not want to find yourself in.
Examples of when a 26 might be used
Red light car accident- It was a he said she said, both parties said the other person ran the red light and no witnesses can be found
4 way stop or 2 way stop sign- Same thing as above. The both said the other party did not stop.
Physical evidence and statements don't match at all and officer cannot determine fault
What to do if you have a 26 on your police report and no tickets are given
If you get a 256 on your police report and you know you did not do anything wrong, you may want to consult a traffic attorney. He may be able to help get your car fixed and if you are injured, get a personal injury settlement. But be aware, this will be an uphill battle. The insurance company will go by what their policy holder tells them happened. An Attorney will be able to investigate, and see if there were cameras or any witness that can be found.
I will give a real life example of a case that involved a 26 and 26 and what an attorney did
Billy was driving through a green light when he was struck in the side by another truck. Both parties said they had a green light. However, the officer could not determine who was at fault , so no tickets were issued. Furthermore, when the accident report was ready, but parties had a 26 in contributing factors. I know Billy, he is a family friend. So, we decided to investigate.
Me and the attorney drove to the intersection and found they had no cameras. There was no way to prove Billy had the green light. Billy's injuries were a hole through the fatty tissue in his arm. I have no idea how this happened, but a part of the vehicle door actually went through his arm, puncturing it. He also had some soft tissue damage. Billy's total medicals were around 8k after it was all said and done. The attorney got him 25k, which happened to be the policy limits.
How did he do it?
I have no idea. The other party had a very good insurance company and maybe they suspected the attorney had a witness. The bottom line is, because you got a 26 on your accident report, does not mean you give up. If you know you are right, fight for it.
Other contributing factors that are new
Many years ago, when i was an investigator, they only had up to 26 contributing factors. Well, that has changed. Now, we have 42 in GA. Technology has made this come along as you will see below.
28-Inattentive or Other Distraction (Distracted)
29-Texting (Distracted)
30-Talking on Hands-Free Device (Distracted)
31-Talking on Hand-Held Device (Distracted)
32-Other Activity-Mobile Device (Distracted)
33-Occupant Distraction (Distracted)
36-Work Zone/Maintenance Equipment
34-Other Interior Distraction (Distracted)
35-Other Exterior Distraction (Distracted)
36-Disregard Other Traffic Control
37-Reckless Driving
38-Aggressive Driving
39-Racing
40-Disregard Police – Evasion
41-Not Visible (Object, Person, or Vehicle)
42-Vision Obscured
However, these contributing factors are for Georgia's highways. Furthermore, they may differ in other states. I know Texas has a lot more having to dealing with wildlife. As you will see, most of the added factors have to deal with using cell phones. This has become an epidemic on our roadways. Laws have been passed. However, i know for a fact it has not stopped the usage of phones. Just Look around next time you are stuck in Traffic.
Officers don't have to write tickets for auto accidents, even if you were at fault for it
In most police circles, it is up to the officer. However, that is not always the case. I was told by an officer in Marietta, GA, they have to give a citation to every person who was at fault in a car accident. What did not ask him was, what happens if he can't determine what happened in the car accident.
Just because no one received a ticket or citation in a car accident does not mean the officer did not assign blame. May sure when you have been involved in an auto accident, to always get a copy of your police report. This report, along with any citation or tickets issued will be a determining factor as to what the insurance company may do.