Car Accidents, work injuries or just overexertion can cause neck pain. Neck pain resulting from a car accident is caused by sudden movement of your neck and upper body. In car accidents, the force of the impact moves your body forward, but your head and neck follow behind this movement. Your body is caught by the seat belt, but your head and shoulders get overextended, and this could cause strain on the tissues in your shoulders and neck. Ligaments, tendons, and muscles in your neck and shoulder could be torn or strained.
I don't feel any pain in my neck after my auto accident.
You may not feel any pain in your neck the day of the car accident. The next day, however, the pain in your neck may be overbearing. Delayed pain is very common in auto accident injuries, furthering your need to see a doctor quickly after an auto accident collision to provide medical care to help minimize pain.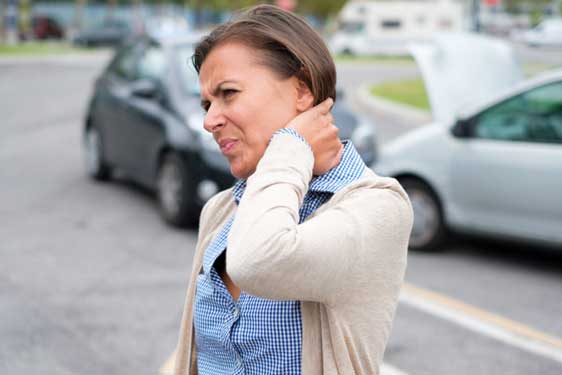 Delayed Neck Injury
One of the reasons you may not feel any pain after an car accident is adrenaline. Adrenaline is released after your collision. This adrenaline acts like natural pain killer. It is not uncommon for neck pain to start days or weeks after a car accident. The pain may range from just uncomfortable to severe.
After adrenaline wears off, is generally when the pain will start. Swelling and inflammation are conditions that tell you something is wrong; the healing process has begun. If treatment is not rendered very quickly after you have been injured in a car accident, you may end up with scar tissue that may turn into chronic pain. It is vital that you seek medical treatment after a car accident.
Common symptoms of Neck Injuries
Neck Pain
Neck stiffness
Restricted movement while turning your head from side to side.
Neck stiffness
This refers to a condition characterized by a limited range of motion and discomfort or pain in the neck area. It commonly occurs due to muscle strain or tension in the neck muscles, but it can also be caused by other factors such as poor posture, injury, stress, or underlying medical conditions.
When the muscles in the neck become tense or strained, they can cause stiffness and restricted movement. This can result in difficulty turning the head, tilting it sideways, or looking up or down. Neck stiffness may be accompanied by additional symptoms such as muscle spasms, headaches, shoulder pain, or a feeling of tightness in the neck and upper back.
Common causes of neck stiffness include:
Muscle strain: This can occur due to overuse, poor posture, or sudden movements that strain the neck muscles.
Neck injuries: Whiplash from car accidents or sports-related injuries can lead to neck stiffness.
Poor ergonomics: Prolonged sitting or working in positions that strain the neck, such as hunching over a computer or sleeping in an awkward position, can contribute to neck stiffness.
Stress and tension: Emotional or psychological stress can cause muscle tension, including in the neck.
Degenerative conditions: Conditions like cervical spondylosis or osteoarthritis can lead to neck stiffness as the joints and discs in the neck degenerate over time.
Infections: In rare cases, infections such as meningitis or inflammation of the lymph nodes in the neck can cause stiffness.
Treatment for neck stiffness
Treatment really depends on the underlying cause and severity of the symptoms. It often includes a combination of self-care measures, such as applying ice or heat, gentle stretching and strengthening exercises, maintaining good posture, avoiding activities that aggravate the symptoms, and over-the-counter pain relievers. It is advisable to seek medical attention for a proper diagnosis and appropriate treatment.
Muscle strain
Muscle strain is a common cause of neck pain and restricted movement. It occurs when the muscles in the neck are stretched or torn beyond their normal limits, resulting in pain, stiffness, and limited range of motion. Muscle strain in the neck can be caused by several factors, including:
Poor posture: Prolonged periods of slouching, hunching over a desk, or holding the head in an awkward position can strain the neck muscles.
Repetitive motions: Repeating the same neck movements or maintaining certain positions for extended periods, such as while working on a computer or using a smartphone, can lead to muscle strain.
Sudden movements: Jerking the head suddenly, such as during a car accident or while playing sports, can strain the neck muscles.
Sleeping position: Sleeping in an uncomfortable or awkward position that places strain on the neck muscles can result in muscle strain upon waking up.
The symptoms of muscle strain in the neck include:
Pain or discomfort in the neck region
Stiffness and restricted movement
Muscle spasms or tightness
Tenderness when touched
Headaches, often originating from the neck area
Treatment for muscle strain in the neck typically involves self-care measures and conservative treatments, such as:
Resting the neck and avoiding activities that exacerbate the pain
Applying ice or heat packs to the affected area to reduce inflammation
Over-the-counter pain relievers to alleviate pain and reduce inflammation
Gentle stretching and range of motion exercises to improve flexibility and promote healing
Maintaining good posture and ergonomics
Avoiding activities that strain the neck muscles
Massage or physical therapy to relieve tension and promote healing
In most cases, muscle strain in the neck resolves with chiropractic treatments within a few days to weeks. However, if the pain and restricted movement persist or worsen, or if there are additional concerning symptoms, it is advisable to consult an accident doctor professional for further evaluation and guidance.
Restricted movement in the neck
Restricted movement in the neck refers to the inability to move the neck freely or without pain. It can manifest as difficulty turning the head from side to side, tilting the head backward or forward, or looking up or down. Restricted movement in the neck is often associated with neck stiffness and can be caused by various factors, including:
Muscle Strain: Overuse, repetitive movements, or sudden trauma can lead to muscle strain in the neck, causing pain and restricted movement.
Cervical Herniated Disc: When one of the discs between the vertebrae in the neck becomes damaged or ruptured, it can impinge on nearby nerves, resulting in pain and restricted movement.
Cervical Spondylosis: This is a degenerative condition that affects the cervical spine, causing wear and tear of the discs and joints. It can lead to reduced mobility and stiffness in the neck.
Whiplash: Whiplash is a neck injury commonly associated with car accidents. It occurs when the head is forcefully jerked backward and then forward, causing strain on the neck muscles, ligaments, and discs. Restricted movement is a typical symptom of whiplash.
Arthritis: Various forms of arthritis, such as rheumatoid arthritis or osteoarthritis, can affect the joints in the neck, leading to inflammation, pain, and limited mobility.
Spinal Stenosis: This condition involves the narrowing of the spinal canal, often due to age-related changes. When it affects the cervical spine, it can result in restricted movement and pain.
Infections or Inflammation: Certain infections, such as meningitis or localized infections in the neck area, can cause inflammation and restricted movement.
If you are experiencing restricted movement in your neck after a car accident, it is advisable to consult an Accident Doctor for an accurate diagnosis and appropriate treatment. They can evaluate your symptoms, conduct necessary tests, and provide specific recommendations, which may include physical therapy, pain management techniques, medication, or, in severe cases, surgery.
Whiplash
Whiplash is a neck injury that commonly occurs due to the rapid back-and-forth motion of the head and neck, resembling the cracking of a whip. It is often associated with car accidents, particularly rear-end collisions, but can also result from sports injuries, physical abuse, or other traumatic incidents.
When a whiplash injury occurs, the forceful and sudden movement of the head can strain or damage the muscles, ligaments, tendons, discs, and other structures in the neck. The specific symptoms and severity of whiplash can vary depending on the extent of the injury, but common signs and symptoms include:
Neck pain and stiffness: Pain and discomfort in the neck are typically the primary symptoms of whiplash. The pain may be localized or spread to the shoulders and upper back. Stiffness in the neck can limit the range of motion.
Headaches: Whiplash can cause headaches, often originating from the base of the skull and radiating to the forehead.
Shoulder and upper back pain: The impact of whiplash can also lead to pain and tenderness in the shoulders and upper back.
Dizziness and fatigue: Some individuals with whiplash may experience dizziness, lightheadedness, or fatigue.
Jaw pain: Whiplash injuries can occasionally result in jaw pain or temporomandibular joint (TMJ) dysfunction.
Arm and hand symptoms: In more severe cases, whiplash can cause numbness, tingling, or weakness in the arms or hands. This suggests the involvement of nerve irritation or compression.
It is important to see an accident doctor if you suspect you have whiplash or have been involved in an accident that could have caused a neck injury. Accident Doctors can perform a thorough evaluation, which may include a physical examination, imaging tests (such as X-rays or MRI scans), and assess your symptoms to provide an accurate diagnosis.
Treatment for Whiplash
Treatment for whiplash typically involves a combination of self-care measures, pain management techniques, and rehabilitation. Common treatment approaches include:
Rest and activity modification: Initially, resting the neck and avoiding activities that worsen symptoms may be recommended. Gradual resumption of normal activities is usually encouraged as symptoms improve.
Pain management: Over-the-counter pain medications, such as acetaminophen or non-steroidal anti-inflammatory drugs (NSAIDs), may help alleviate pain and reduce inflammation. In some cases, stronger prescription medications may be prescribed.
Physical therapy: Specific exercises and stretches can improve flexibility, strengthen muscles, and restore range of motion. Manual therapy techniques, such as massage or mobilization, may also be used.
Heat or cold therapy: Applying heat or cold packs to the neck can help reduce pain and inflammation.
Neck collar or brace: In severe cases or if there is significant instability, a neck collar or brace may be recommended to provide temporary support and immobilization.
Other therapies: Depending on the individual case, additional treatments such as chiropractic care, acupuncture, or transcutaneous electrical nerve stimulation (TENS) may be utilized.
The duration of recovery from whiplash varies from person to person. While most cases resolve within a few weeks to months with chiropractic treatment, some individuals may experience chronic symptoms or require more extensive interventions. It's important to follow the guidance of your accident doctor and attend any recommended follow-up appointments to ensure proper healing and recovery.
I went to the ER, but they did not do much if anything.
This is common with most accident injuries that involve neck and back pain. The ER may not do much other than giving you some prescriptions (you are lucky if they even do that these days) and tell you to follow up with your primary care in three days. The emergency room was designed to get people out of immediate life-threatening conditions, they may not consider neck pain a life-threatening condition.
It is always good to go to the ER after an accident, they still may do XRAYs, an MRI or CT scan to determine the extent of your injuries. You also have a record that you went to the ER for a car accident injury, this may help in the future if you decide to pursue a personal injury case against the at fault party.
Personal injury claims and whiplash
Personal injury claims should be a last resort for anyone wanting to get compensated for an injury after an car accident, it would be nice if the insurance company would do the right thing to avoid having to hire a personal injury lawyer. Unfortunately, the insurance company has had to deal with a lot of frivolous claims in the past, so they are very skeptical to begin with when someone is claiming personal injuries.
What makes an insurance company not believe you hurt your neck?
You wait too long to see a doctor
waiting too long or seeing a doctor after you have hired an attorney may be a red flag for insurance company. The longer you wait to seek medical care, the more the adjuster is going to think your injury was caused by something else. Seek medical attention immediately following your accident. If you seek medical care immediately after your car accident, your claim may have more credibility.
You don't see a credible doctor that treats auto accident neck injuries!
Seeing the right doctor after you have been injured is very important to you, the credibility of your case. Insurance companies may keep records of doctors and lawyers. Furthermore, they may work together to run up medical costs to achieve a better settlement for themselves. They are not concerned for your wellbeing at all or looking after your best interest. Make sure you see a credible doctor.
You don't Follow doctors' orders!
I must admit, I don't know if I could do this. However, if the doctor says you need to sit out of work for a few days: you may need to follow his or her instruction. I know many Americans simply cannot afford to do this. I had an attorney tell me one time; you must do what is best for you. Is the doctor or the attorney going to pay your bills?
Neck pain and car accidents
Do you have neck pain after an car accident and need to seek medical care. You will find a doctor on our website that can provide you with medical care, under a lien or bill pip and med pay. Don't put off care because your PC wants money up front, or you would have to pay out of pocket. If we do not have a doctor listed on our website in your area, contact us and we will help you find one with your neck pain.