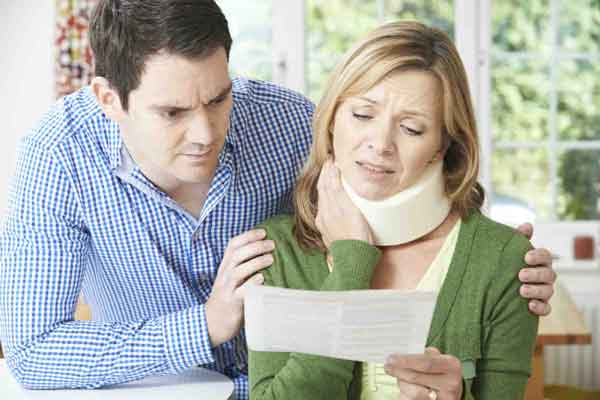 One of the first questions many of us might ask is how are my medical bills going to get paid after a car accident. This questions answer can vary by the State for which you reside in. Medical bills ultimately are the responsibility of the injured party. It would be nice if we could send the at fault party the medical bills after a car wreck, but it just does not work that way. Depending on where you live, or what type of auto policy you have may determine how your medical bills will get paid.
How are your medical bills paid after a car accident
Health Insurance
Health insurance companies will only pay if there is no one else to pay for the expenses. Even when you go to visit a doctor after your car accident, they will ask you to fill out a form which asks for all information regarding your insurance, and they work behind the scenes to ask the relevant insurance companies for money. If the injured party is not at fault, these insurance companies work to make sure that the related party bears some expense however they cannot be sure always. Find a doctor after a car accident now.
Medical claims are usually very complex. If the number of insurance companies involved is significant, it just makes the process more confusing. When this happens, people prefer getting an attorney on board who can help them sort out these issues and assist them to understand the whole process in detail. Also, make sure to see a doctor after you have been involved in a car accident.
Auto Insurance
There are numerous types of car insurance coverage, and each applies in different situations. The extent to which they deal with injuries differs. Some of these are:
Personal injury protection coverage: it has a very low limit. It usually pays for the injuries an individual gets in an accident. If the injuries are minor the doctor's fees might also get paid.
Bodily injury liability: this is usually when your insurance pays for the damages you cause to another person, for example, an individual gets hurt in an accident which is your fault. There is a limit to which the insurance company will pay for which the individual has to bear the expenses.
Medical payments coverage: this is like personal injury protection but has a greater limit and covers more costs. This is very common in no-fault states where they cannot claim the third party
Uninsured and underinsured motorist: this is when a person is involved in an accident, and the person who is at fault has no insurance or his insurance covers little Your insurance company can decide to pay for these expenditures especially if the injuries are very severe and you cannot cover these on your own. This situation is not very common since most people in the states have some kind of insurance.
Pip or personal injury protection states
Pip states are states that require every driver on the road to carry a minimum coverage of personal injury protection. This coverage is automatically included in a auto policy in that state. In some states, you can opt out of this coverage. Personal injury protection will pay for any medical bills if you have been injured in an auto accident. Pip is referred to as no fault. No matter whose fault the auto accident was, you can get your medical bills paid through your own insurance. PIP covers you and anyone in your car at the time of the accident in most states.
Pip states and the amount of medical coverage
Hawaii-10,000
Kansas-4,500
Kentucky-10,000
Maryland-2,500
Massachusetts-8,000
Michigan-500,000
Minnesota-40,000
New Jersey-15,000
New York-50,000
North Dakota-30,000
Pennsylvania-5,000
Puerto Rico Texas-2,500- can refuse coverage
Utah-3,000
Washington-10,000 can refuse coverage
Benefits of using pip
Easy to use with the right doctor
No matter who was at fault, you can still get treatment
Broad range of what pip will pay for
Pays for lost wages in some states
Cons of using pip
Benefits have a broad range based on the state
Hard to understand what pip pays for in your state
You have a time limit for which to seek treatment
Pip was designed to pay for you and anyone in your car to get medical treatment after a car accident. It is also designed to pay for the medical bills and in some states, much more. If you were out of work due to the car accident. You may have to travel for your medical care, it might pay for this. It may pay for your loss of income. Pip will always pay for your medical bills for you and anyone in your car at the time of the accident.
There are some restrictions to using PIP. States such as FL, you have to see a doctor within 14 days of your car accident to get your medical bills paid for by the insurance company. In other states you may have up to two years to file a pip claim. Your health insurance in some states is primary and PIp is secondary. In mosts taes pip is the primary provider that pays for your medical bills after a car accident.
Pip laws vary greatly depending on which state you reside. It would be wise to understand how the pip works in your state and how much do you have. How much pip is dedicated to paying your medical bills, and what all does it pay for.
Med Pay or Medical Payments
Most people have no idea what med pay is or how it helps with your medical bills after a car accident. Think of med pay like this, Med Pay is health insurance when you are injured in a car accident. It will pay your medical bills and anyone else in your car no matter whose fault the car accident was. You set the limit of the med pay benefit. This benefit can range from 500 dollars all the way up to 100,000 or more.
the benefit of using med pay to pay for your medical bills after a car accident
It's easy to use
A Doctor who treats car accidents will generally do all the paperwork
pays quickly
It will cover you and anyone in your car
doesn't matter who was at fault for the car accident, your medical bills are paid for
The amount you select is the maximum benefit amount for one person
Cons of med pay
Your insurance rates may go up
If the car accident was your fault, your rates more than likely will go up anyway. If the car accident was not your fault and you are filing a Med pay claim to pay for medical bills, it's possible your rates could go up, but unlikely.
Med Pay is one of those things you have to ask about when you are speaking with your insurance agent. I have found that they usually don't volunteer to tell anything about med pay. You have to ask. So, don't be afraid to ask about med pay when you are speaking with your agent. It might surprise you as to how affordable med pay is.
Your medical bills might be held until your personal injury case settles
Your treatment process in a personal injury case may last quite some time. In states that do not have pip,this means you would have to pay out of pocket for your treatment. Not many of us can afford to do that. If you are one of many who do not live in a pip state, your bills may have to be paid at a later time. Eventually the at fault party's insurance company will pay for them. In the meantime you need treatment and dont have the money to see a doctor. How can you get the treatment you need now and worry about the bill later.
Attorney's lien
No more than a piece of paper, an attorney's lien is a note to the doctor from the attorney stating that when your personal injury case settles, your medical bills will be paid out of the proceeds. Not all doctors like this arrangement. Some attorneys don't honor this agreement or they pay the doctor less than 50 cents on the dollar. However, in some instance it works extremely well, when the doctor and attorney have a good working relationship.
Medical lien
This is a peace of paper you sign when you treat with your doctor. It merely states that you are responsible for the medical bills when you have finished treating. The insurance company will pay you and then you pay the doctor. The downfall for the doctor is that some patients will get the insurance money and never pay him or her.
Third party billing
No many doctors bill this way, however, it would be good if more did. Laws vary from state to state on third party billing. The doctor bills the at fault party's insurance company directly for the services rendered. Third party is also when the doctor bills through med pay or pip. This is the most effective way to get your bills pad for after an auto accident. The problem is, not too many doctors bill this way. The doctor would remove the headache of dealing with an attorney with this method of payment.
Who pays for my medical bills after a car accident
Ultimately, the insurance company is going to pay for it. Weather it be your own, or the at fault party. We like to think the at fault party's insurance company should pay for everything, but if you live in a pip state, your insurance may be the primary. If you were at fault for the accident, have no pip or med pay, you may be paying for your medical bills after a car accident.
You are responsible ultimately for your medical bills after a car accident. However, if you were not at fault, the insurance company should pay. Please research Pip laws if you reside in a pip state. You need to arm yourself with knowledge of who pays for what in the event you are in a car accident. Don't wait until after the fact to do this. Many people have no idea what medpay is and what is does. Don't assume you have med pay because you told your agent to give you full coverage, you have to ask for it. Arm yourself with the right insurance, you don't need to worry about how your medical bills will be paid after a car accident.