Getting your medical bills paid after a car accident can be both stressful and time consuming. Moreover, most people assume the at-fault insurance company will simply pay for all of medical bills after a car accident. However, this is not always the case. Of course, the at-fault insurance company will pay for medical bills in time, but it may not happen when treatment is received. In other words, you may not get paid until you are finished with treatment.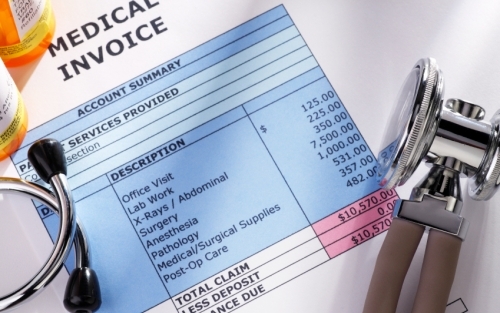 Conversely, if you live in a PIP or NO Fault State, your medical bills will be sent directly to the insurance company for reimbursement. You should always ask the Doctor is they accept third party billing before seeking treatment after any automobile or slip and fall accident. Third party billing includes automobile insurance, Med Pay, PIP and Attorney Liens.
Some ways you can get your medical bills paid after a car accident:
Medical Payments or Med Pay
Pip or personal injury protection, also called no-fault insurance
Workman's Comp (if you were injured on the job)
Health Insurance
Automobile Insurance
Attorney Lien or LOP
Medical Lien (won't pay for long-term medical bills, but you can get the treatment you need immediately)
Med Pay
Medical Payments will pay for medical bills if you have been injured in a car accident. Generally speaking, the doctor will submit all of the paperwork to the insurance company, and is then paid for the treatment provided. However, some doctors will not bill Med Pay directly. In this case, you will pay out of pocket and then the insurance company will reimburse you as you go. We recommend seeking treatment from a Doctor who will file the necessary paperwork directly. This will reduce your stress over how the medical bills are going to get paid.
Personal injury Protection or PIP
PIP or Personal injury protection will pay for all medical bills up to the limit determined by your state. PIP is not accepted in all states, so make sure to check the laws in your area. This benefit gives coverage to all passengers involved in the car accident regardless of who was driving or who was at fault. Moreover, you do not need an attorney to get medical care using PIP coverage, and most good accident Doctors will not require payment up front.
PIP allows the treating Doctor to file directly with the insurance company for payment. Any good Accident Clinic will accept PIP; however, most states have specific guidelines including time requirements for treatment and payout limits. Rest assured that all of the Doctors listed on Accident Doctor will handle all of the necessary paperwork for Med Pay and PIP.
Workman's Compensation
Workman's compensation will pay for your medical bills if you have been injured on the job and then you are involved in a car accident. However, it may take a role as the secondary insurance provider, with the at-fault party for the accident taking the primary role. If workman's compensation pays for your medical bills, it is possible they might want to be reimbursed by the car accident insurance company. These laws differ from state to state, so this may be inaccurate for your particular state. For example, if you were a passenger in a car, and were riding with a co-worker who was at-fault for the accident. In some states the workman's compensation becomes the primary and there is no secondary.
Health Insurance
Many Doctors will not accept health insurance to pay for your treatment after a car accident. Moreover, using health insurance may cost you out of pocket to get accident treatment. You may have to pay your co-pays and meet your deductibles for your care. However, your claim could get denied by the health insurance company if they find out that the treatment was due to an automobile accident. Not to mention that you could get stuck with the medical bills. Check the regulations in your state if you are attempting to use health insurance for auto accident treatment.
Automobile Insurance
Every good Accident and Injury Clinic will accept automobile insurance for payment. Auto insurance is the backbone of the personal injury industry, and is commonly accepted in all states. Some states may require you to use an attorney to collect from the auto insurance company. However, many states allow Doctors to bill the insurance company directly, without the need of an accident attorney. Call our team of Doctors if you have questions about your specific state requirements.
Attorney Lien or LOP
An attorney lien is a way for Doctors to collect payment for car accident treatment. A lien or LOP gives the Physician claim to a portion of the settlement funds received for the collision. Most Injury Doctors do not want the headache of tracking down payments or dealing with the insurance company. For this reason, Doctors will rely on accident attorneys to collect the settlement funds. In many states, Doctors work with many different attorneys, which is why you should always ask your Doctor for a good attorney recommendation.
Medical Lien
A medical lien can be used to pay for your medical treatment after a car accident. Furthermore, it will allow you to get the treatment you need. A lien is a guarantee of payment for services rendered when your personal injury case settles. A lien basically guarantees that the doctor will receive payment. However, he just has to wait for it, similar to using an attorney or Letter of Protection. Generally speaking, Doctors would rather work with an attorney if collecting through a personal injury claim. Otherwise, the Doctor is responsible to collect payment after the settlement is paid.
Getting your medical bills paid after a car wreck
Whatever you do, make sure to document your injuries as soon as possible after any car accident. The insurance company will be watching those first few days and weeks closely to see if you are truly injured. Delays and gaps in treatment can both be used against you by the insurance company. Documentation helps get all your medical bills paid after a car accident.