One of the biggest misconceptions about car and truck accidents. This is when if the vehicle isn't damaged then you won't be injured as well. You need to know that a vehicle is a lot harder and tougher than you. And, if the vehicle isn't damaged, it doesn't mean that you aren't injured as well.
Many accident doctors have seen many patients that have been injured while their vehicles just have a scratch or two. Injuries can occur, no matter what damage you have to your car or truck.
Injuries that you may sustain if the vehicle does not appear to have damage
Whiplash
Soft Tissue Injuries
Sprains
Head Injury
Neck Injuries
Bruising
Headaches
Back Pain
The majority of minor or no property damage is caused by rear end accidents. The rear of your car is more prone to show no damage than the front.
You can still be hurt with no property damage
This might not happen a lot, but there are a lot of cases where the vehicle is still in good condition, but the driver was injured in the car accident. You should never think that you aren't injured, just looking at the damage done to the vehicle.
And, you should for sure not think that whiplash is the only injury that you can sustain and that you don't need to seek the assistance of an accident doctor. The vehicles are made to last and not to get damaged that easily. Something that your body isn't.
Your neck and head aren't protected in a vehicle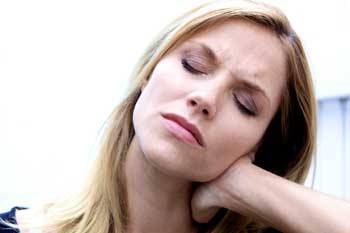 You need to remember something. Your neck, head and most parts of your back aren't protected in a vehicle. And, it can get damaged easily during a car accident. Even, if the accident was just a bumper to bumper accident.
This is one of the reasons why whiplash is a common non-serious injury that doesn't need the attention of an accident doctor. But, they don't realize that there are many serious injuries with the same symptoms as whiplash that you can get when you were in a minor car accident.
Too many people consider whiplash as a minor injury where you are only having neck pain and headaches. And that a couple of painkillers will take the pain away. However, whiplash is a real car accident injury that needs to be diagnosed by a doctor that treats car accidents.
Did you wear your seat belt or not?
Something to consider. Did you wear your seat belt during the minor accident? If you didn't, then you might have other injuries than just whiplash. It doesn't matter how minor the accident might be, the moment that you don't wear your seat belt, you will have a much higher risk of getting injuries.
You can hit your head on the steering wheel, or you can jerk your head and neck and cause a long-lasting injury. Even with the smallest accident, a seat belt can prevent you from getting any injuries.
And, if you have children with you in the vehicle that weren't wearing their seat belts, they can even get more serious injuries than what you might think. This is one of the reasons why wearing a seat belt is essential. Especially, when it comes to children.
How to protect yourself and family in a car to prevent injuries
If you are looking at the injuries caused by minor accidents, you will realize that those injuries were unnecessary. This is because it could have been prevented if you are just a bit more careful. There are a couple of things that you can do, to ensure that you and your family aren't getting serious injuries after a mild car accident.
Firstly, and mentioned before, wearing your seat belt is essential. For you and all your children. It doesn't matter if they are infants or teenagers. Everyone in the vehicle should be buckled up correctly. Small children shouldn't sit on the passenger side, because of the seat belt that can cut them, or the airbag that can suffocate them during a car accident.
To just take a couple of minutes extra to ensure that the car seat is fitted correctly every time that you are driving, will ensure the best protection for your child. And, to make sure that they are buckled up correctly into the car seat, might just save their lives, or a serious injury.
Symptoms that you should look for, even after a mild injury
Remember that if you don't get these symptoms right away, it doesn't mean that you aren't injured at all. It might be a delayed injury where you are getting one or more of these symptoms a couple of days later.
If you are seeking medical attention right after the accident, you might even need to worry about any symptoms that you might get after a day or two. These are the most common symptoms that you need to look for, even after a mild injury. When you have any of the symptoms, you should go to an accident doctor right away
Headaches
Dizziness and nausea
Memory loss and change of personality
Any muscles aches or abdominal aches that you feel
Neck and back injuries
Damage to your car or truck
There is a misconception that if you can't see it, it must not be damaged. When you get hit in the rear and you don't see any more than scratch on your rear bumper, don't leave the scene of the accident because of this. You may find out later what a huge mistake this can be.
Yes, there is such a thing as hidden damage. This is the damage you cannot see on your car or truck. It's the damage that lies behind the bumper, such as your rebar or absorber. Chances are if you were hit in the rear these items can be damaged as well. If you never remove the bumper, you never will see it.
A good body shop is your friend
A good body shop will take your car apart to make sure there is no hidden damage. Now, they are not going to take your whole car apart of course. However, were ever the damage occurred will be the area they will inspect a little closer. And that might mean taking the rear bumper completely off.
Make sure you get an estimate & get your car fixed
Why you might ask, it's just a scratch. However, if you are injured, the amount of damage may become a very important issue. If you take your car to the body shop and they remove whatever they need to remove, they may find hidden damage and have to write a supplement.
Supplements, what are they
If your initial estimate was 350.00 and they find hidden damage, your supplement will be for the difference. This in turn might raise the property damage to 1200.00. This is a big difference in the personal injury world. You never have to worry about a supplement, the body shop deals with the insurance company and the check usually comes to them directly.
The bottom line is, if you are hurt, take your car to the body shop and get an estimate and plan on getting it fixed.
Your car not being damaged in an accident does not mean you are not
The moment that you were in a car accident, where your vehicle isn't damage, you might think that you aren't injured as well. However, that might not be true. Just because your car isn't damaged, it doesn't mean that you or a passenger in your car isn't injured.
Depending on your seat belt or the type of accident, the injuries can go from mild to really serious. It is important to make sure that you are going to consider that you are injured, even if your vehicle isn't damaged. And, going to an accident doctor and monitoring any symptoms are essential.