Headache after a car or truck accident, why do you get them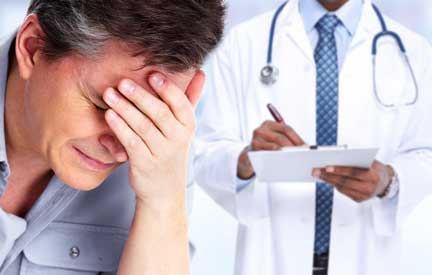 Okay, you were in a car accident and you have a headache. This is normal, right? No, this isn't normal at all. Headaches after a car accident are more frequent than people think. You should not think it's normal to have a headache after a car accident. There might be something seriously wrong. Make sure that you are getting it checked out by a doctor ASAP. You might be thinking that your headache was caused by the stress of the accident.
There are some serious head injuries that you can sustain from car accidents. Don't ever ignore a headache that you sustained after a car accident. The sooner you are going to get to an accident doctor for treatment, the sooner you will feel better with the minimum long-term side effects. You need to remember that there are normal head pains, and then there are car accident headaches that are a sign of something more serious.
Why do most people think that a headache after a car accident is normal?
This is one of the biggest mistakes that people can make. To think that a headache after a car accident is normal. A headache is never normal, especially when you were in a car accident. The reason why people think that they are normal is that of the trauma and stress that are going with a car accident.
However, this isn't the only reason why you might have a headache after your car accident. Yes, there are some related to stress, but you can't say that your headache is because of stress. Not before you were seen by an experienced car accident doctor.
Very Common after a auto accident
Headaches after a car accident are quite common. They could be caused by whiplash or a closed head injury. This is why it's important to see a car accident doctor if you are experiencing constant headaches after you have been involved in a car accident. It is possible you may have a more serious injury.
You may have a constant throbbing pain in your head. This pain may not start right after your car accident, but may take days or hours. We will explore why people get them after car accidents and see what can be done about them.
You got your first headache a couple of days after the accident. What now?
Just after the accident, you are feeling fine. No visible injuries and not headaches. Normally with a serious head injury, you will get a headache immediately after the accident. However, there are some circumstances and injuries that caused a delay in head pain. This means that you might not feel injured right after the accident.
But, a day or two later, you start getting head pains that are constant and not going away. The moment that you start getting headaches a couple of days after the accident, you should see an accident doctor immediately. This is the only way that you can make sure about the reason for the accident. Delayed head injuries do happen, and it can become serious if untreated.
Signs that you might have a serious head injury
It doesn't matter if you are getting these signs right after the accident, or if the symptoms appear a couple of days after the accident. When you have these signs, you might have a serious head injury that needs medical attention immediately:
Headaches that are going with vomiting
Loss of consciousness
Dizziness
Shoulder, neck or back pain with the headaches
Memory loss or a change in personality
Severe headache
A headache is happening after the head injury.
A headache along with neck stiffness, fever, issues in mental status, vision changes, seizures, feeling uneasiness with speech, numbness, and weakness.
When you have any one of these signs, then you should make sure that you are going to an emergency room or accident doctor as soon as possible. The sooner the treatment, the sooner you will feel better.
What injuries can cause headaches?
You need to know that there are many injuries that were caused by headaches. But, also there are some injuries that can be serious. When you were in a car accident, and you are struggling with head pain, these might be the reason you have a headache.
Blow to your head
If you are sitting in a car and are hit in the rear, side, or front area, it's possible for you to get thrown about and strike your head on items inside or part of your car. It's possible you could head hit the steering wheel or the door window or pillar, or even your passenger. You may not notice any head pain right away.
After all you just have been hit; you may not feel any pain for quite some time. Any blow to your head should be considered a serious injury that needs to be examined ASAP. It is possible you may have ruptured blood vessels inside your head or may have fractured your skull. Nevertheless, you need to be examined and possibly have a CT scan performed to see what the extent of your injuries are.
This might not be a serious injury, depending on the speed of the car and the type of head injury that you have sustained. It is essential to see a doctor if there are any signs that you have gotten a blow to your head.
Whiplash
This is the most common reason for a headache after a car accident. But, because this is common, this doesn't mean that this is serious. There can be serious consequences for whiplash if this is left untreated by the right doctor.
Why Whiplash Causes Headaches
Whiplash causes headaches because the nerves, tendons and muscles near the neck become inflamed and irritated. The tendons and nerves connect your neck to your head. This could be why you get head hurts after you have suffered whiplash in a car accident. The pain usually starts in your neck, and then moves to your head. It may last anywhere from 30 minutes to hours. The head pain is usually more painful than the neck pain suffered from whiplash.
A headache can be caused by whiplash. A headache may be severe or throbbing pain throughout the day. Whiplash generally is caused by the rear impact collision in a car. Headaches can appear in the following hours or days after the auto accident. Nerves , tendons and muscles run from your neck up to the top of your head. When these nerves, tendons and muscles get inflamed they cause pain. This pain can be in the form of headaches.
Whiplash occurs most commonly in auto accidents, but can occur in sports injuries and other accidents. Whiplash may occur when your head moves in a rearward and then forward motion very rapidly. Muscles, tendons and ligaments will extend beyond their normal range of motion.
What type of treatment can relieve headaches caused by whiplash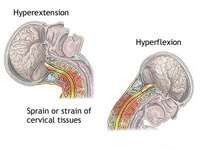 Treatment of whiplash may relieve your constant headache. If you went to the emergency room after you auto accident, they may have prescribed you muscle relaxers and painkillers. While these will help you function and may relieve pain, they will not cure your whiplash or the cause of a headache.
Treatment of whiplash may consist of
Chiropractic care
Cold packs to reduce swelling
Range of motion exercises
Muscle strengthening
Electrical Stimulation
In some cases they isolate the neck. This may or may not help. The affected area needs to have its range of motion restored. The only way to do this is through range of motion exercises . Chiropractic care is an excellent treatment option for headaches caused by whiplash. One reason chiropractic care is so effective is because chiropractors have been trained to treat injuries dealing with the spine and neck. They treat ligaments, muscles, and tendons. While they cannot treat broken bones, whiplash is not caused from broken bones. Headaches caused from whiplash can be treated by any of the doctors we have listed on our website.
Skull fracture
This is a more serious headache and it can be fatal if you don't get the right treatment. Normally with a skull fracture, there is internal bleeding. This can lead to brain injuries that can be permanent or even worse, death. Any indication of bruising on your face, blood coming from your ear or swelling can mean a fracture. You should get to an emergency room immediately.
It's possible you may have fractured your skull. While there are many different types of skull fractures, the main cause would be a blow to the head. This blow to the head would be have to be strong. Your bones don't break easily. After fracturing your head in a car accident you could suffer brain damage. A broken piece of bone could penetrate your brain; this would not be a good scenario. You need to see a Doctor ASAP if you having headaches and especially if you suffered a blow to your head in the car accident.
Symptoms of a skull fracture
bleeding from your ears, nostrils, or around your eyes
bruising on your face or head
swelling and tenderness
indentation on your head
Any fracture to your head should be taken seriously. More than likely a trip to the ER is a good decision. They will do an XRAY or CT SCAN to determine if your head is fractured. They will then take the appropriate steps for treatment of your fracture.
Hypertension
In my career as a legal investigator i have seen several clients who have told me after there car accident, they had spikes in their blood pressure. Hypertension causes pressure in your head to build up. This is caused by your blood pressure rapidly rising. This will cause a severe headache. Taking aspirin or over the counter pain relievers will not relieve this type of headache. Not only is this dangerous, they can cause other issues as well. If you have been in a car accident and have sudden spikes in your blood pressure see a doctor ASAP
Hypertension can also cause
Blurred vision
Chest pain
Nausea
A concussion
This is an injury that can go from a mild concussion to a more serious concussion that will need medical attention. You will not know for sure that you have a mild concussion and not a serious one without going to a doctor. It is possible to have a concussion and not even know it. Concussions are caused, by a blow to your head during the car accident. You may get "knocked out", but the majority of people don't even know they have one. Concussions can cause head pain, temporary loss of memory, balance and coordination issues.
Symptoms of a Concussion
Amnesia surrounding the car accident
Confusion
Delayed response
Dizziness
Head Pain
Loss of consciousness
Nausea
Ringing in the ears
Speech slurred
Vomiting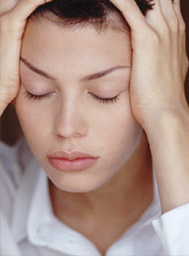 Your brain is surrounded by fluid. This fluid acts a cushion for your brain. A blow to the head will cause this fluid not to cushion your brain. Your brain hits your skull. Your brain can become bruised from this blow. More may suffer severe head pain after this occurs. You need to seek emergency medical treatment immediately.
Stress
Stress because of the accident and the injuries that you and your family might have can give you stress headaches. This is one of the least serious headaches but should also be checked out.
Different types of headaches associated with car accidents
• Vascular-Vascular occur when you have poor or abnormal cerebral circulation. Abnormal or poor cerebral circulation could last for months after a whiplash injury
• Migraines-Migraines are common with whiplash and usually start within hours or days of the injury
• Analgesic Rebound-Analgesic Rebound is the result of overusing medication or a direct side effect of the medication prescribed for whiplash pain.
• Sympathetic Nerve Dysfunction-Sympathetic Nerve Dysfunction is caused by damage to the cervical nerve truck
Post-traumatic
They can have a negative influence on your mood. They might not be life-threatening, but this can be dangerous in its own way.It can have a negative influence on your mood and even might cause you to consider suicide. If you were at an accident doctor and he has diagnosed you with post-traumatic headaches, you should consider going for therapy.
Symptoms or signs
An auto accident victim may experience headaches at a severity and frequency that did not exist before the collision. Following are few from many symptoms:
Feeling of tightness or pressure across the forehead or even on the back of the head
Loss of appetite in some cases.
Sensitivity on the scalp, shoulder and neck muscles
Dull and rough, aching head pain
Different types of post-traumatic:
Musculoskeletal
Cluster
Cervicothoracic somatic dysfunction
Chronic facial
Nerve dysfunction
Migraine
Chronic
Vascular
Tension-type
The therapy will help you with dealing with the accident and even with your guilt because you caused the accident. By talking to someone you will start to heal mentally and will reduce your headaches.
The difference between a migraine and a headache:
Headaches after car accidents are also called as Tension Headaches, which can be very difficult to characterize and distinguished from migraines in many cases. Bit it differs from some kinds of a migraine, they are not always associated with the common visual disturbances, for example flashing lights or blind spots, vomiting, nausea, one-sided numbness or weakness, abdominal pain.
Tension headaches are mainly of two types, which are as follow:
Episodic
Such kinds can be present, occurring after half an hour to within a week after the incident approximately. The continuous repetition of such episodic can be a great cause of becoming chronic.
Chronic
Such kind of a headache can be present for few hours. If some patient is facing headaches for 15 days or more in between one and three months, they are called Chronic
Reasons behind Tension Headaches
What is the primary reason behind tension headaches? This answer is still not known. Experts do believe that the occurrence of these is the result of the contractions of muscles present in scalp, neck, and face or because of the increase in emotions, for instance, sadness or stress. Another basic theory is the increase in sensitivity to stress and pain, which makes any person even more liable towards tension. Stress is the primary cause of tension.
Tension Headaches Treatment:
These are becoming very common day by day. Many people are in favor of self-treatments at home and using painkillers to the most to lower down the pain them.
Treatment of Tension Headaches may include
Painkillers: OTC painkillers such as aspirin, ibuprofen, or several other pain killers present in the market.
Combination Drugs: Combination of acetaminophen or aspirin with an inducing of caffeine or aspirin, which may be helpful in relieving pain more efficiently than any single medication.
Narcotics and Triptans: It helps in alleviating not just the episodic, but also migraines. Narcotics/Opiates should not be used because it has the potential of addiction for the patients and has several side effects as well.
Risk Factors:
Women are likely to suffer more from tension as compared to men.
After the age 40, the risk factor gradually increases.
Closed type head injury
Closed type head injuries are injuries with the cranium itself. These are injuries that are not apparent on the outside of your head, like a abrasion or a cut on your leg. This would be something you could not see. If you suspect you have something more than just a headache, you need to see your doctor right away. He can order an mri or cat scan to determine what type of closed head injury you might have and what he is going to do treat it.
A MRI or CT scan of your head could show the following conditions
Presence and location of cysts, tumors,and the size of the presence, location, and size.
Look at the Sinus cavities
Its looks for blood vessels in the head that may be injured
Why you get headaches and what is causing them
Conditions in the brain such as swelling, inflammation, bleeding, and signs of injury
If you have been involved in a car accident and are suffering head pains, you need to see a doctor right away. It would be peace of mind to know that your headaches are caused by whiplash rather than a closed type head injury.
What to do
You have a headache after your car accident. You went to the doctor and gotten the right diagnoses. But, how do you deal with them? Painkillers all the time isn't always the best idea. The answer normally lies with a chiropractor. They are assisting you in healing your injury without using medicine. This is always helpful and it will make it easier to live with the pain until the injury is healed properly. See a doctor asap if you have had a headache after a car accident.