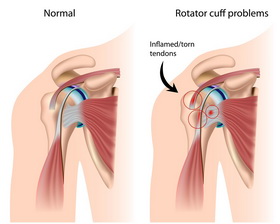 Some people suffer from a shoulder injury or pain either right after a car accident, or in the days that follow. The shoulder is a very complex ball and joint. Its made  up of muscles, tendons, ligaments and bones. Shoulder Injuries are common after any car accident.  Moreover, shoulder injuries can be difficult to detect and treat.  While a minor muscle tear may only require Chiropractic Care, a broken collar bone can take months to heal.
The shoulder provides us with a wide range of motion and when injured, can cause us a great deal of pain. If you think you have a shoulder injury after a car accident, slip and fall, work or sports injury, make sure to find a doctor right away.
Some common causes of injury to the shoulder during a car accident:
Sudden jolt or seat belt tightening during the car accident
Direct impact to the door
Bracing yourself for impact
My shoulder did not hurt the day of the car accident
Delayed onset of pain in any injury can be quite normal in a car accident. The shoulder is no exception. The injured person may feel pain immediately after the car accident, or it may follow in the days to come. Severe injuries , such as broken bones, would produce pain immediately. Get to your doctor immediately following your car accident.
Common symptoms of a Shoulder injury
Discolored area
Sudden and intense pain
Stiff or painfully tender
Range of motion causes weakness and pain
Swelling, numbness, or tingling
The shoulder is made up of three bones, the humerus, clavicle, and the scapula. These bones are held in place by muscles, tendons, and ligaments. It also has the greatest range of motion of any joint in your body. Because of the range of motion, it is more likely to be injured in a car accident.
Some common car wreck injuries to the shoulder
Fractured collar bone, shoulder blade, or upper arm
Torn ligament or tendons
Torn Rotator Cuff
Heavy Bruising
Stretched tendons or ligaments ( sprains )
Having the injuries after a car accident require immediate medical attention. Injuries such as a torn rotator cuff fractured or broken bones might require surgery. Make sure you get to the Doctor right away if you experience any of these conditions. It is possible it will have to be immobilized for a period of time.
You may be out of work for quite some time due to that immobilization. If your job requires the use of the arm that is affected in anyway, you might be missing quite a bit of work. The Doctor may want an MRI and X-rays of the area to determine the best method of treatment. After your car accident , Call the Doctor first. Get the medical treatment you deserve after you have hurt your shoulder in a car accident.
What can I do for my injury until I see an Accident Doctor?
First, take it easy. I know that is easier said than done, but try to immobilize the shoulder area as much as possible. Avoid any strenuous movements such as weight lifting or heavy work around the house. Light stretching is OK but we do not recommend any strenuous stretching. Your body is compromised after a serious Car Wreck, which makes it open to additional injury.
Can the seat belt hurt my Shoulder in a Car Accident?
That is not easy to answer as any constraint will apply pressure in key areas to hold your body in place during an Automobile Accident. While calculated pressure points can hold you in place, they can also cause tension on a local level.
Local tension refers to the pressure points of the seat belt such as the shoulder and hip. Of course, any restraint device can cause pressure points that lead to pain. However, these restraints are engineered to save lives and hold your body in place in the case of a serious Car Wreck.
Do X-Rays or MRIs work?
Imaging devices such as X-Rays and MRI can detect broken or fractured bones in the shoulder. The ER is the first choice for many Car Accident Victims. The Emergency Room is equipped with the imaging services needed for most Should Accident Injuries. Generally, the pain you feel is merely a symptom of a more severe Collision Injury. While X-Rays and MRI are important in identifying broken collar bones, Chiropractic treatment can focus on the nerve, tendon and muscle damage. Auto Insurance covers both Chiropractic and Medical Doctors. Early detection is important with any broken or fractured bone. And, of course, knowing how to treat the Auto Injury for long term healing.
Will all Accident Doctors treat Shoulder Injuries?
Any good Accident Doctor will treat shoulder injuries following a Car Wreck. Again, shoulder injuries are not uncommon after Car Accidents. This is one reason that the Accident Clinic offers X-Rays, MRI and other imaging services. In addition to imaging, we offer several different medical disciplines as part of our integrated healing process. Shoulder Injuries often require both medical physicians and chiropractic care.
Will Chiropractic Care help?
Auto Accident Victims report more relief from chiropractic care than the alternative treatments. Chiropractic Care uses hands on movement of the muscles, tendons and spine to encourage healing. Muscle manipulation can help identify the local source of pain, not just the surface level pain. Pain Medications may help mask the initial signs of pain but do little to heal the underlying source of Auto Injuries.
While Chiropractic Care is known to help with back, spine and neck Injuries, the shoulders are part of the same musculoskeletal system. Additional resources show that Chiropractic Care requires fewer procedures requiring testing and much lower medical costs. Bottom line, Chiropractors are the only Car wreck Doctors who use their hands to treat and encourage healing in your shoulder muscles.
Shoulder Injuries can be caused by :
Auto Accidents
Commercial Accident
Motorcycle Crashes
Pedestrian Accidents
Hit and Run
Slip and Fall
Workers Compensation
Bus Accidents
Accepted payment options for Auto Accident Treatment:
Personal Injury Protection, also known as PIP
Auto Insurance such as Geico, Progressive or State Farm
Med Pay
No Fault Insurance (also known as PIP Insurance)
Letter of Protection, also known as LOP
Attorneys liens
The Accident Doctor Group accepts all types of Car Accident Insurance.
Will Ultrasound help with Auto Accident Shoulder Injuries?
Chiropractors will often utilize Ultrasound to help reduce swelling directly following your Car Accident. Additionally, Ultrasound may help speed up localized healing.
Chiropractors utilize a variety of manual and technological treatments to help treat Automobile Accident Injuries. Ultrasound is a non-evasive treatment that leaves patients feeling a sense of heat or a tingling sensation. Although many patients report feeling little to no physical sensation at all with Ultrasound treatment.
Will I need a cast for my Car Accident Shoulder Injury?
Many shoulder injuries require time to heal, which may require a cast or sling. Most shoulder injuries from Car Accidents do not require a hard cast. However, shoulder injuries are on the rise due to the seat belt effect.
Although not serious, shoulder injuries are not uncommon from car crashes. While seatbelts may cause pinch points during a Major Car Wreck, they ultimately save lives.
Shoulder Injuries and Arm Numbness
Patients often report feeling arm numbness and wonder if the pain stems from a shoulder, back or neck injury. While most shoulder pain is localized, pinched nerves can lead to numbness throughout the arms and hands.
However, arm and hand numbness is generally tied to the spinal column in some way. The nervous system collects into the spinal column, which is oftentimes the source of Automobile Accident pain.
Can sleeping aggravate my Injury after a car accident?
People sleep in different ways, but it has been proven that side sleeping can put additional strain on the shoulders and neck. While we don't support major sleeping adjustments after a Car Wreck, we do recommend extra support and possibly heat and cold packs. On a last note, do abuse pain medications. Pain Medications can dull the pain associated with the Auto Accident and lead to additional issues.
Getting to work
It can take days, weeks or even months to get back to work after your Shoulder Injury from a serious car wreck. Even minor soft tissue damage can prevent you from completing physical tasks at work.
However, these Injuries can leave the shoulder vulnerable to further damage. The body is weak and susceptible to additional shoulder damage, which may hurt your medical claim. Multiple car accident injuries may damage the previous medical claim.
How to know if my Car Wreck caused my Shoulder Injury?
You should seek immediate medical care after any Car Accident. Delayed treatment can cause the insurance company to question the validity of your claim. Additionally, delayed treatment can leave questions about the origin of your Issues. Delayed treatment and gaps in treatment are the two biggest delays in Medical Claim Settlements. Or, no settlements at all.
Not all Auto Injury Doctors are the same. The Accident Doctor Group has been treating shoulder injuries for many years. Each person responds to treatment in a unique way. Get Shoulder treatment for your Car Wreck using Auto Fault Insurance, or liens.
Can chest pain be a result of a shoulder injury?
Identifying the source of pain after a Car Accident is very challenging if not impossible. The body shuts down nerve and pain centers to help manage the physical effects of the Accident. Swelling is the body's natural ability to naturally control or manage pain. Swelling helps to neutralize the muscles, allowing time to heal.
Chest pain is oftentimes associated with a Shoulder Injury after any Automobile Crash. Car Accident issues can signify a wide range of Injuries. Seeking immediate care is the only way to guarantee your treatment.
Get treatment for your Shoulder Injury. Call today to speak to a qualified Accident Doctor.