Rehabilitation from an auto accident needs to start as soon as possible. A car accident can cause a number of injuries requiring different rehabilitation procedures. Rehabilitation might include chiropractic care, medical doctors care, or physical therapy. Chiropractic care is the most sought after rehabilitation form after a car wreck.
One of the main reasons chiropractic care works so well for auto accidents is because most of the injuries suffered are what is called soft tissue injuries. A large percentage of injured auto accident patients seek rehabilitation from a chiropractor.
Why it's important to get car accident Rehabilitation
Rehabilitation after an car accident is very important for a record of your injury, without it, the insurance company may not believe your injury came from your car accident. When you never go see any doctor but you are claiming you are injured, you cannot blame the insurance company for feeling this way. Some injuries may require a specialist, such as broken bones or a head injury.
Rehabilitation is crucial for individuals with injuries for several reasons:
Restoring Function:
This helps restore and improve physical function, mobility, and strength, allowing individuals to regain their independence and perform daily activities. Through exercises, therapies, and targeted interventions, rehabilitation helps the injured individual recover lost abilities and optimize their physical potential.
Preventing Complications:
Injuries can lead to various complications, such as muscle weakness, joint stiffness, decreased range of motion, and impaired circulation. Auto Accident Rehabilitation helps prevent or minimize these complications by addressing them early on. It focuses on maintaining and improving physical capabilities while also targeting specific issues related to the injury.
Promoting Healing and Recovery
Rehabilitation supports the body's natural healing processes. It includes techniques and therapies that facilitate tissue repair, reduce inflammation, and promote proper alignment and biomechanics. This can expedite the healing process and contribute to a faster and more complete recovery.
Pain Management
Injuries often cause pain, which can significantly impact an individual's quality of life. Auto Accident pain management rehabilitation incorporates pain management strategies such as physical modalities, therapeutic exercises, and manual techniques to alleviate pain and discomfort. These approaches can help reduce reliance on pain medications and improve overall well-being.
Psychological Well-being
Injuries can have a profound psychological impact, leading to frustration, anxiety, and depression. Psychological Rehabilitation addresses the psychological aspect of the recovery process by providing support, counseling, and guidance. It helps individuals cope with the emotional challenges associated with their injuries and promotes a positive mindset, which can contribute to better overall outcomes.
Preventing Recurrence
Auto Accident Rehabilitation focuses not only on immediate recovery but also on preventing future injuries. It aims to address underlying weaknesses, imbalances, and compensatory movements that may have contributed to the injury. By improving strength, flexibility, and movement patterns, rehabilitation helps reduce the risk of re-injury and promotes long-term health and well-being.
Optimizing Long-Term Function
Even after an injury heals, there may be residual functional limitations. Rehabilitation aims to optimize long-term function by providing strategies and interventions that allow individuals to adapt and maximize their capabilities. This can help individuals return to work, sports, or other activities they enjoy, enhancing their overall quality of life.
In summary, rehabilitation plays a vital role in helping individuals recover from personal injuries by restoring function, preventing complications, managing pain, promoting healing, addressing psychological well-being, preventing re-injury, and optimizing long-term function.
It provides a comprehensive and personalized approach to support individuals on their path to recovery and maximize their potential.
Although it is difficult to find a specialist to treat auto injuries, especially soft tissue, they will treat broken bones and head injuries because of the severity of the injury. When you go to the emergency room for soft tissue injuries, they may do x-rays, but generally send you home and tell you to do a follow up appointment with your primary care doctor. Rehabilitation or an auto injury if you have soft tissue injuries may include visits to see a physical therapist or chiropractor.
Common Conditions that would require Auto Accident Rehabilitation
Rehabilitation for personal injuries suffered in car accidents, these would be the conditions that would require some sort of rehab or over the counter medication to alleviate the pain.
Here are some common conditions that would need Auto Accident Rehabilitation
Bruising
Inflammation
Sprains
Swelling
Vertigo
The goal of Auto Injury Rehabilitation
One of the main reasons to seek a doctor after an car accident is to get out of pain. Pain tells you something is wrong with your body and it needs to be fixed.
You may also need documentation for your injuries. This ensures your personal injury attorney, if you have one, has everything he needs to pursue a claim against the insurance companies. This is why it's good to see a doctor that treats auto accident injuries.
The goal of car accident rehabilitation is to restore or improve an individual's physical, mental, or social functioning after a personal injury. The specific goals of auto injury rehabilitation can be categorized into several broad areas:
Physical Restoration:
This type of auto injury rehabilitation aims to restore and improve physical abilities, such as mobility, strength, coordination, and flexibility. This can involve various therapies, exercises, and techniques designed to enhance physical function and reduce pain.
Functional Independence:
Auto Injury Rehabilitation often focuses on helping individuals regain their independence and ability to perform activities of daily living. This may involve relearning skills such as self-care, dressing, eating, or using assistive devices to enhance mobility.
Pain Management:
Rehabilitation programs often incorporate strategies to manage and alleviate pain associated with injuries, chronic conditions, or surgeries. These may include medication, physical therapies, psychological techniques, or alternative treatments.
Cognitive and Mental Health Improvement:
Rehabilitation can address cognitive impairments and mental health conditions. It may involve therapies aimed at improving memory, attention, problem-solving, and other cognitive functions. Additionally, mental health support may be provided to address psychological distress, depression, anxiety, or trauma resulting from the injury or illness.
Psychological and Emotional Well-being:
Rehabilitation recognizes the importance of psychological and emotional well-being in the recovery process. It may involve counseling, therapy, or support groups to help individuals cope with the emotional impact of their condition, improve self-esteem, and develop effective coping strategies.
Social Reintegration:
Rehabilitation aims to facilitate the reintegration of individuals into their social environments, such as family, school, work, or community. This may involve vocational training, job placement assistance, educational support, and guidance on adapting to social situations.
Overall, the goal of rehabilitation is to optimize an individual's quality of life and functional abilities, enabling them to regain independence, participate in meaningful activities, and reintegrate into society to the fullest extent possible.
What type of doctors perform Auto Injury Rehabilitation
Your primary care doctor may or may not provide rehab after an car accident. Many PC's don't want to do what is know as third party billing. Other options include chiropractic care, physical therapist, medical doctors, orthopedics, neurologist.
Chiropractors
Chiropractors are good at rehabbing soft tissue injuries. They use a hands on approach to manipulate the areas of injury. Furthermore, they work with most personal injury attorneys on lien basis. This makes Chiropractors a good choice for auto injury rehabilitation to the attorney and the patient. They can handle most soft tissue injuries.
Medical Doctors
Medical Doctors are an excellent choice for auto injury rehabilitation. They are able to prescribe medications, physical therapy and refer out to specialist if needed.
Physical Therapist
Physical Therapist much like a chiropractor use a more hands on approach to car accident rehabilitation. They may want you to perform excuses at home that will strengthen muscles and help with sprains, and strains.
Orthoepic Physicians
Orthopedic surgeons specialize in the diagnosis and surgical treatment of musculoskeletal conditions, such as fractures, joint injuries, and degenerative joint diseases. They may collaborate with Auto injury rehabilitation specialists to develop post-operative rehabilitation programs for their personal injury patients.
Neurologist
Neurologists are physicians who specialize in diagnosing and treating conditions that affect the nervous system, including traumatic brain injury, spinal cord injury, and other neurological disorders.
Physiatrists
Physiatrists, also known as rehabilitation physicians, are medical doctors who specialize in physical medicine and rehabilitation. They diagnose and treat a wide range of conditions that affect the musculoskeletal, neurological, and other bodily systems. Physiatrists develop comprehensive rehabilitation plans and coordinate the multidisciplinary care of patients.
Auto injury patients in many cases go to the emergency room. However, they only to find out they did not receive what they felt was adequate medical care. You may need to go to the ER, but the are not going to provide you with Auto Injury Rehabilitation.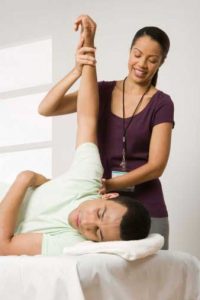 Rehab can come in many forms.
Adjustments
Bracing
Compression
Elevation
Fabrication of Protective pads
Functional Activities
Heat
Ice
Manual Therapy
Massage
Mobility exercises
Modalities
Rest
If you or someone you know needs Auto Accident rehabilitation after they have suffered a personal injury, contact us or do a search at the bottom of this page for a doctor in your area who does auto accident rehabilitation. Make sure to get your injury documented by a doctor that treats auto injuries.