Almost every state has laws regarding texting and driving, yet people still engage in this bad habit behind the wheel. As one of the most common distractions for drivers, texting is incredibly dangerous while operating a motor vehicle.
Knowing more about the dangers it poses, the statistics, and how to protect your rights if you're in an accident with a texting driver are imperative.
Why Is Texting Considered a Form of Distracted Driving?
According to the National Highway Traffic Safety Administration (NHTSA), distracted drivers were responsible for 3,522 fatalities in 2021. Texting is a form of distracted driving because it diverts attention from the task of operating the vehicle.
The NHTSA provides even more sobering statistics, citing that sending or reading a text will take your eyes off the road for up to five seconds or more. If you are driving 55 mph, it is equivalent to driving the entire length of a football field with closed eyes. Additionally, texting while driving has the same effect on reaction time behind the wheel as if you'd consumed four beers in one hour.
No message is so important that it can't wait, but every day, people engage in this dangerous behavior on the road. It's not just teenage drivers – people from all age groups are guilty of this behavior, and it leads to very serious consequences.
What Are the Consequences of Texting and Driving?
Most states have consequences for those who text while driving. From incurring points on one's driving record to fines, those who violate the policies can face penalties.
However, the biggest consequences are for those who are victims in accidents caused by texting drivers. Traumatic brain injuries, spinal cord injuries, broken bones, and other serious injuries are often the result when someone is texting while driving.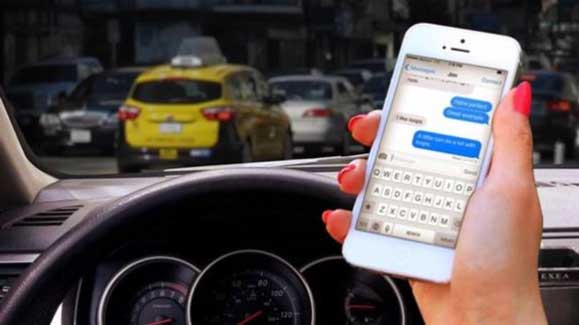 In the state of Florida, laws prohibit driving while operating a cell phone or any other type of handheld electronic device. It is illegal to use any device to make calls, emails, or texts, access the internet while in motion, or take photos or videos. The penalties in this state are a non-moving violation with large fines, the chance for points on your driver's license, and higher insurance premiums.
Driving safely is not possible unless your full attention is devoted to the task. This is why texting while driving is a dangerous distraction as it increases the risk of accidents.
Those caught texting while driving in Florida may face an initial fine of $30 for a first offense, plus court costs and other fees. For a second offense of texting while driving within five years of the first offense, the fine is $60 plus additional fees and three points added to the driving record of the offender. With moving traffic violations, the base fine is $60, along with points on the driver's license.
Even with these penalties, people continue to text while they drive. In South Florida, there are many vehicles on the road, which already increases the chances of an accident. When people are distracted by their phones, it makes an accident more likely.
What Can You Do If You Were in an Accident Caused by a Texting Driver?
In most cases, you won't know the reason why you were hit. You will be driving or at a complete stop at a traffic signal when someone engaging in this negligent behavior crashes into your vehicle.
The first step is calling the police to report the accident and get the medical treatment you need right away. If you've sustained injuries because another driver was texting, you can take legal action to pursue compensation. This can be done even if the police do not issue a citation to the texting driver.
In Florida, the no-fault insurance system means you must seek coverage from your auto insurer, even if you were not at fault. If you need to pursue additional compensation beyond this policy, you have to prove that your injuries are serious. This will then permit you to submit a claim to the at-fault driver's insurance company.
However, as the injured party, it is your responsibility to show proof that the other driver was negligent and liable for your injuries. The police report will be helpful for evidence as will your medical records, photos and videos from the accident scene, and witness testimony.
Skilled legal help for auto accidents in Fort Lauderdale is strongly advised, especially if you suspect the other driver was texting while driving. With the help of an attorney who has the resources to assist you, you will have someone who can pull cell phone records. These records can determine whether or not texting while driving was a factor in your crash.
Remember, you must prove the other party is liable for your injuries and damages by checking all the boxes for negligence. Since every driver on the road owes it to all other drivers to obey traffic laws and operate their vehicle in a safe manner, proving there is a duty of care is the easiest part.
It gets more complicated when proving that the at-fault driver breached their duty of care. This is where the evidence needs to show that they did something that put you at risk, such as texting while driving. You or your attorney must prove that this breach of duty caused your accident, leading to your injuries and damages. All the evidence will serve as proof of these points.
Ask an Auto Accident Attorney About Texting and Driving
The days and weeks that follow your accident are the most important for recovery and putting your case together. Talking to an attorney that is experienced in representing injury victims who have suffered from negligent texting drivers can give you valuable insight into your legal options.
Even if you had no idea that the other driver was texting at the time, it may all come to light when your attorney starts investigating and gathering evidence.