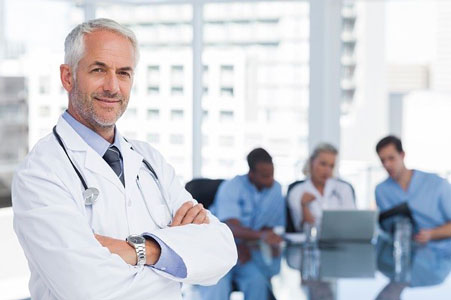 Having an Arizona accident is a hassle. Finding a ethical doctor or lawyer is even more of a hassle. Accident doctor eliminates the hassle. When you enter your zip code you can find a personal injury doctor. A doctor will be within reasonable distance. We don't want you driving far to find help. Help is close by and a phone call away.
Injured, Call us, we can help!!!!
An Arizona car wreck doctor can treat you after your auto crash. He can use the best equipment and Techniques to get you back to normal. It is very important to go see an accident doctor quickly. Do not wait weeks after an accident.
The way doctors bill personal injury patients
Attorney Liens
Med pay or medical payments
Pip or personal injury protection
The majority of doctors will not file just a medical lien. And, they will not do third party billing, which is billing the auto insurance company directly. However, the will do so if they are billing for pip or med pay.
Most common method of billing-Attorneys lien
Required Arizona auto insurance
The required coverage in Arizona are Bodily Injury and Property Damage. The minimum required limits are $15,000 per person and $30,000 per accident for Bodily Injury and $10,000 per accident for Property Damage. This coverage is the minimal coverage allowed. This does not mean this coverage is the best. Property damage would not cover most new cars.
If you hit a very expensive car or truck you might find yourself owing the insurance company money.. Make sure you carry enough insurance. When you buy insurance, you are buying protection. You need to protect yourself before you have a car wreck.
Overview of all Arizona Accidents
Approximately 2.89 persons were killed each day.
One person was killed every 8 hours 17 min.
There were 113 persons injured every day.
One person was injured every 12 minutes 45 seconds.
Alcohol Related crashes accounted for 4.56% of all crashes and 16.80% of all fatal crashes.
Of all alcohol related crashes, 82.65% occurred in Urban areas and 17.35% occurred in Rural areas, while 68.71% of all alcohol related fatal crashes occurred in Urban areas and 31.29% occurred in Rural areas.
Single vehicle crashes accounted for 17.99% of all crashes and 32.37% of all fatal crashes.
Of all Pedestrian crashes, 15.23% were fatal while 2398% of Pedalcycle crashes were fatal.
Crashes which occurred during daylight hours (6:00 a.m. to 6:00 p.m.) accounted for 70% of all crashes.
Motor vehicle crashes resulted in $17.193 billion in economic losses to Arizona. • Children age 14 and younger accounted for 41 fatalities and 2,104 injuries in motor vehicle crashes.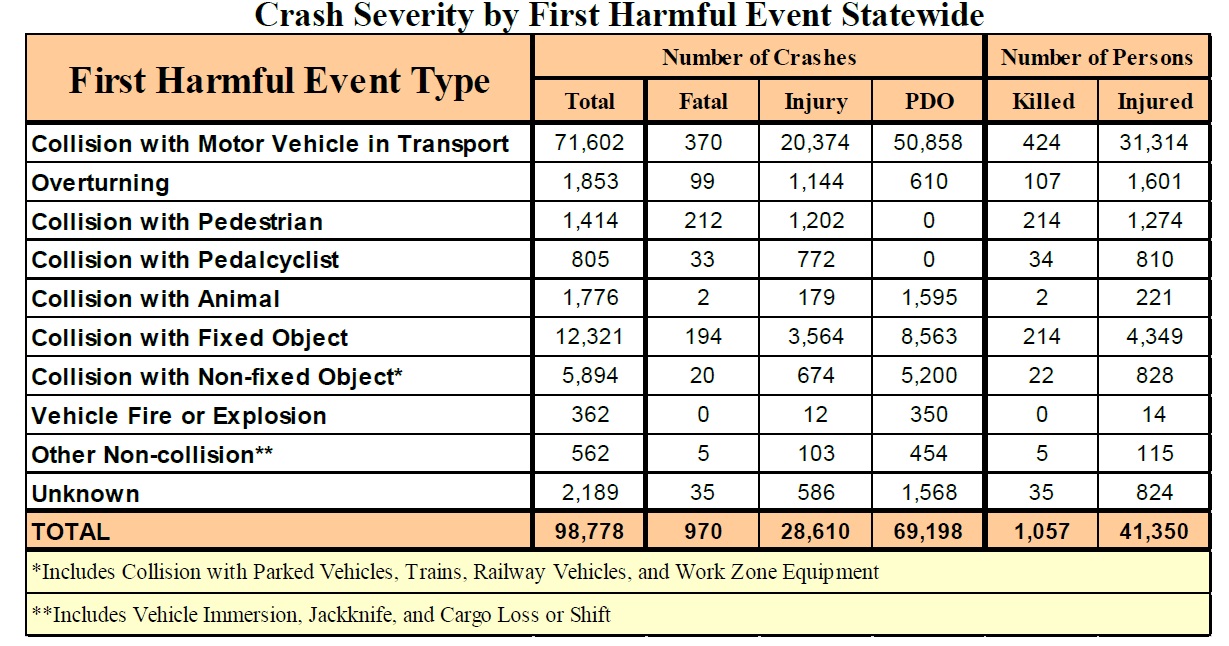 Total 98,778
Fatal 970
Injury 28,610
Property Damage Only 69,198
Urban 85,244
Rural 13,534
Alcohol Related 4,506
Pedestrian 1,523
Pedalcycle 830
Motorcycle 2,317
Single Vehicle 17,766
Multi-Vehicle 81,012
Breakdown Of Fatal Crashes In Arizona
Total 970
Alcohol Related 163
Urban 587
Rural 383
Single Vehicle 314
Multi-Vehicle 656
Alcohol Related Single Vehicle 46
Alcohol Related Multi-Vehicle 117
Breakdown Of Persons Killed And Injured
Type– Killed—-Injured
In All Crashes –1,057 —–41,350
In Alcohol Related Crashes –181 —–2,863
In Urban Crashes –624 —-35,155
In Rural Crashes –433 —-6,195
In Speed Related Crashes– 337 —–15,839
In Lane Departure Crashes –648 —–13,212
In Crashes On The State Highway System –388 —–13,411
In Crashes On Local Roads –669 —-27,939
Using Safety Device –287 —-33,239
Not Using Safety Device –313—- 2,607
Drivers Age 24 Or Younger –97 —-6,570
Drinking Drivers Age 24 Or Younger –11—- 317
Breakdown Of Crashes By Time
Peak Month For All Crashes January
Peak Day For All Crashes Friday
Peak Hour For All Crashes 4 Pm – 5 Pm
Peak Month For Fatal Crashes February And September
Peak Day For Fatal Crashes Saturday
Peak Hour For Fatal Crashes 7 Pm – 8 Pm And 9 Pm – 10 Pm
Peak Date For All Crashes In 2020 Friday February 14th (502 Crashes)
Peak Date For Fatal Crashes In 2020 5 Days Tied With 7 Crashes (2/21, 9/19, 10/28, 11/3, 12/13)
Peak Hour For Motorcycle Crashes 5 Pm – 6 Pm
Peak Hour For Alcohol Related Crashes 6 Pm – 7 Pm
Peak Hour For Pedestrian Crashes 7 Pm – 8 Pm
Peak Hour For Pedalcycle Crashes 4 Pm – 5 Pm
Citations issued for auto accidents in Arizona
Arizona Cities
Apache Junction
Avondale
Benson
Bisbee
Buckeye
Bullhead City
Camp Verde
Carefree
Casa Grande
Cave Creek
Chandler
Chino Valley
Clarkdale
Clifton
Colorado City
Coolidge
Cottonwood
Dewey-Humboldt
Douglas
Duncan
Eagar
El Mirage
Eloy
Flagstaff
Florence
Fountain Hills
Fredonia
Gila Bend
Gilbert
Glendale
Globe
Goodyear
Guadalupe
Hayden
Holbrook
Huachuca City
Jerome
Kearny
Kingman
Lake Havasu City
Litchfield Park
Mammoth
Marana
Maricopa
Mesa
Miami
Nogales
Oro Valley
Page
Paradise Valley
Parker
Patagonia
Payson
Peoria
Phoenix
Pima
Pinetop-Lakeside
Prescott
Prescott Valley
Quartzsite
Queen Creek
Safford
Sahuarita
San Luis
Scottsdale
Sedona
Show Low
Sierra Vista
Snowflake
Somerton
South Tucson
Springerville
St. Johns
Star Valley
Sun City
Superior
Surprise
Taylor
Tempe
Thatcher
Tolleson
Tombstone
Tucson
Tusayan
Wellton
Wickenburg
Willcox
Williams
Winkelman
Winslow
Youngtown
Yuma
Arizona Holiday Accidents
Holidays such as Memorial Day, Labor Day, and Thanksgiving are regarded as three or four day weekend holidays for statistical
purposes. Holidays such as Christmas, New Year's Day, and the Fourth of July are celebrated on specific dates; which make the
holiday period range from two to five days in length.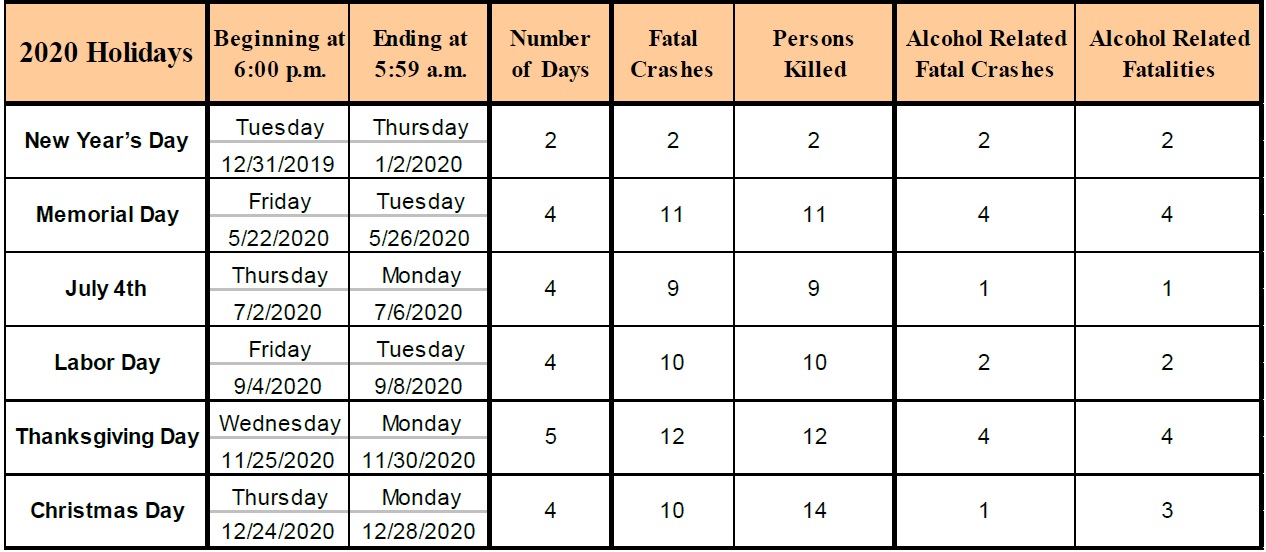 Holiday fatality statistics are based on fatal crashes occurring from 6:00 p.m. on the last working day prior to the holiday through 5:59
a.m. the day following the holiday period. Example: Thanksgiving fatalities are counted from Wednesday evening at 6:00 p.m.
through 5:59 a.m. of the following Monday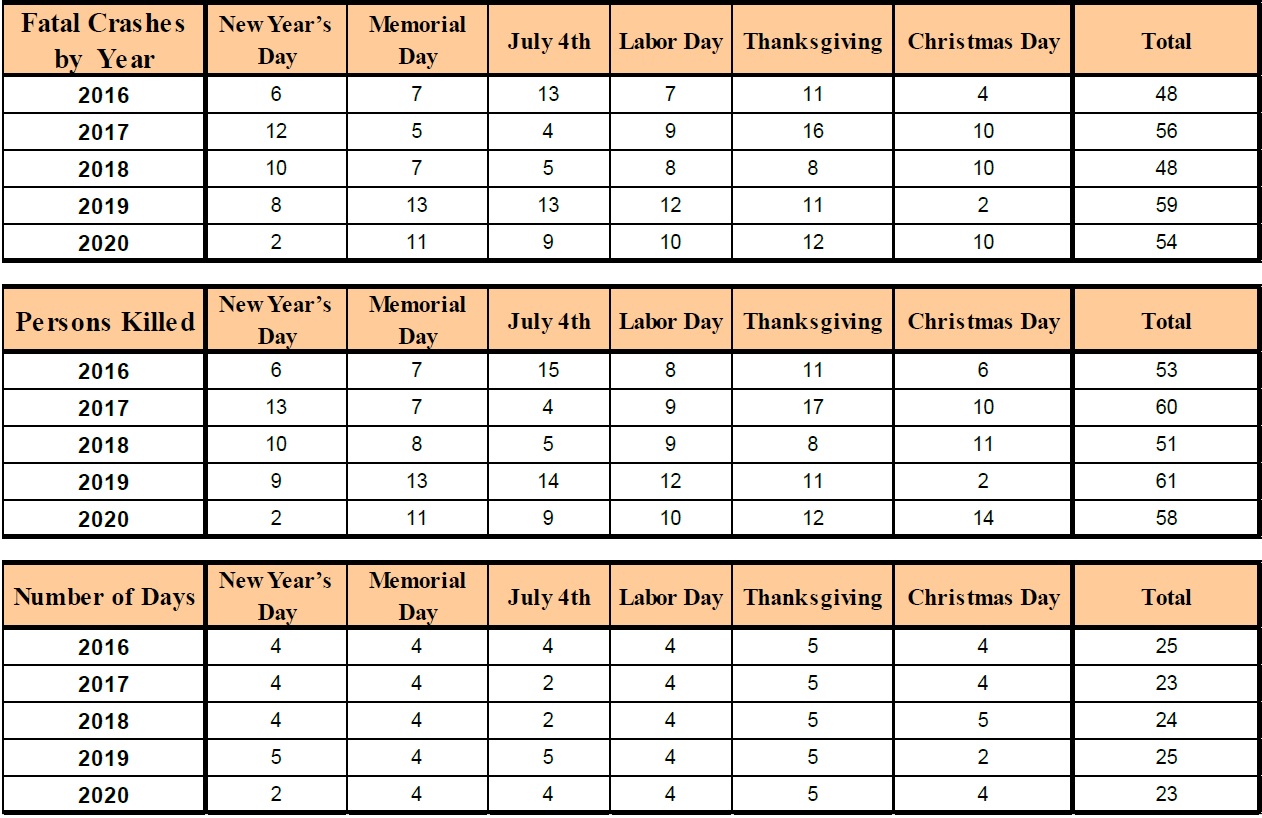 Arizona Accident Doctor
IF you have been hurt or a loved one has been injured in a car, truck or motorcycle accident, don't hesitate to call us so we can help you get the medical care you deserve. Our accident doctors have had years experience dealing personal injuries. We can work with your attorney or if you do not have one, offer a free consultation.