The Thanksgiving holiday should be a time of relaxing, spending time with the family and celebration. Many auto accidents and other types of incidents happen more frequently on Thanksgiving. Drinking and driving statistics go up around the thanksgiving. More people hit the road during thanksgiving than any other holiday in the united states. We will looks at some common thanksgiving accidents and in some cases what can be done to prevent such accidents from even occurring. These accidents can occur in your home, kitchen, backyard, or on the road. Auto accidents during Thanksgiving will be covered at a later date
Turkey fryer accidents
I'm not sure how many of you have had a fried turkey, but let me tell you it is much better than your grandmother's baked turkey. Fried Turkey in my opinion is the only way to cook one. I have been frying turkeys for 20 years during Thanksgiving and for Christmas dinner. I can tell you from first hand experience you have to be careful. No, i have never burned anything down or caused a fire. I have had the oil catch on fire. Turkey fryers need the most respect of any cooking utensil you have in your arsenal. The biggest mistake I ever made was not thawing the turkey completely out before sliding it down in the pecan or peanut oil.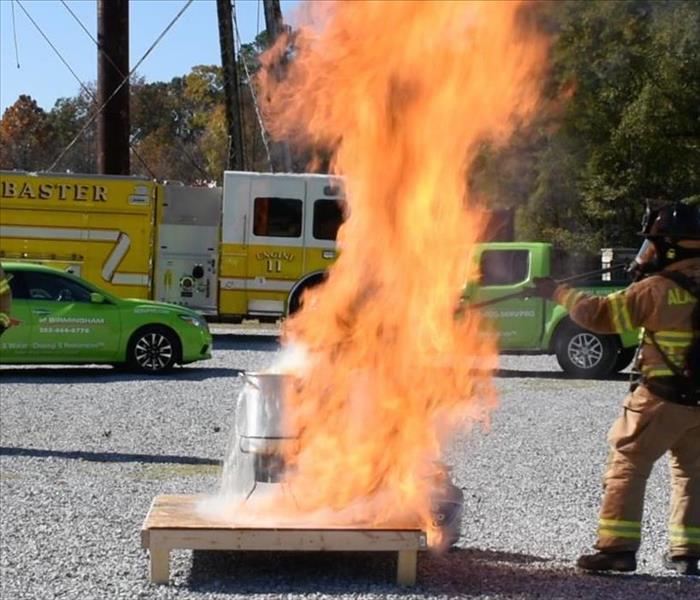 Turkey fryer accidents, while not the only accident in the kitchen, it is one of the most common. Deep frying a turkey is almost like a man cooking ribs on the grill, it's an art. Usually cooked at 3.5 minutes per pound, it requires a lot of time and prep work to get it on the table before noon. Heating the peanut oil may take 20 minutes before it reaches the right temp. I always calculate weight and get the time on my phone, set an alarm. We cook between 325-350 degrees, but when we are first putting it in, we raise the oil temp to 375-390 degrees. The temperature will drop rapidly while dropping the turkey in, when you finally get it all the way in, you might have lost 50 degrees or more. When the temperature drops below 325 it might take 10 minutes to get it back to where it needs to be.
Drop that turkey slowly
When you drop the turkey in you need to do it extremely slow. Pause your descent if you have to, the oil will start rising once it starts going in. make sure you have a long but strong fixture attached to the turkey so you your arms won't get hot or burnt. Where turkey fryer gloves, they can withstand very high temps. Once you have your turkey in the pot, put the lid on and keep it on. And for the next 45 minutes to an hour, you do nothing but watch the temperature gauge. Some People will take the lid off to check on progress, doing this lets the oil splash out and could cause a fire, don't do it. Finally, it will be time to pull your prized bird out. Turn off the burner, and pull it out slowly. I usually let it sit over the pot a while to drain off the excess oil. Then it's to the cutting board
Common mistakes when frying a Turkey
Turkey not thawed completely (we take ours out 2 days before we plan to fry)
Drop the turkey down in the oil too fast
Oil level to high
Not watching the temp
Inattentive
At one time i have done all three of these and the results were not too good. When the oil level is too high, it has no place to go when the turkey gets dropped in. This will usually cause a fire. The oil will run down on top of the burner and light up. Don't panic, turn the gas off and get back. If you drop the turkey in too fast, it will essentially boil over, causing a fire. If you try to fry a frozen or partially frozen turkey, it splatters and pops quite a bit. Not a good thing to do if you standing right next to it. It would be wise to have a plan in case of a fire. A water hose will not do much good in an oil fire.
Safety tips for frying your turkey on Thanksgiving
Make sure to cook it in the open, away from your garage and house
Don't drink while cooking that bird
Keep children away from your burner and the pot, adults only
Always keep an eye on the temperature ( watch it like a hawk)
Don't not fill the oil above the fill line ( this fill line is just a guide, if you have a big bird, you need to use less oil)
Lower the Turkey very slowly into the oil, even pausing if you have to
Wear protective gloves
Use a long utensil when lowering your turkey to avoid the heat
Keep the propane tank as far away from the burner as the hose will allow
Shut off the gas immediately if there is a fire
In case of a fire, do not try and put it out with water, oil and water do not mix
Most Thanksgiving holidays are filled with great memories. Don't make your Thanksgiving memory a bad one. Some Thanksgiving accidents do happen in the kitchen. Getting cut with a knife while carving that turkey or getting burned by a hot oven. Be careful this Thanksgiving season. Many people chose to drink during Thanksgiving and there is nothing wrong with that as long as you drink responsible. Frying your own Turkey for the thanksgiving feast is a great way to celebrate with friends and family, but be very careful, that turkey can come back and burn you when you least expect it. A fire safety guide can be found here.
Auto Accidents
Thanksgiving accidents on a national level are the highest of any other holiday. Last year 431 people died in a 4 day span during thanksgiving. 40% of these accidents where related to alcohol. This statistic astounds me. When I think of thanksgiving I think of family, turkey, and sleeping. I don't think of drinking and driving.
Alcohol Related
I cant believe the percentage was this high when I started researching this. There is no doubt if 40% are alcohol related this number could be reduced this year. When you are with your family or friends this year for thanksgiving, be careful and responsible. Let's make it to Christmas and the New Year.
Dangerous times on the road
Thanksgiving as with other Holidays are dangerous times to be on the road. It seems to be the highest day of travel for the United States. Whether it's by air or car, we all can show a little more observance. Sometimes people can avoid accidents if they could think on their feet fast enough. Not that all accidents are avoidable. But some certainly are avoidable. Thanksgiving for a lot for people means family. I'm not sure where alcohol and drugs play a part. Be careful if you travel this Holiday season. Don't be a statistic. Eat some turkey; spend time with friends, family, and children. If you have to drink, be wise, don't drive. I'm going to drink some wine, I'm sure. But I'm not going to drive. The number of Family's hitting the road this Thanksgiving is expected to increase slightly from 2020.They will be taking shorter trips. The reason is to save gas as household budgets get tight. AAA says Tuesday in its annual forecast that a stronger economy is needed to spur a bigger jump in holiday travel growth. AAA predicts 53 million Americans will travel at least 50 miles from home, this is the biggest increase since 2005. More people will travel, but they will go less distance. Gas prices are up and people are traveling more than they ever have this holiday.
Be prepared for Traffic jams and car problems
Check your vehicle out before travel this Thanksgiving to ensure a trouble free journey. Things you may want to look out for include
Battery
Tires
Fluid levels
Etc
Make sure to have a safety kit in your car, this should include jumper cables.
Worst time's to travel in some Popular metropolitan areas
| | | | |
| --- | --- | --- | --- |
| Metro Area | Corridor | Peak Congestion | % Over Normal |
| Atlanta | I-85 S, Clairmont Rd to MLK Dr | Wed, 1:30 – 3:30PM | 340% |
| Boston | I-93 N, Quincy Market to MA-28 | Wed, 1:00 – 3:00PM | 240% |
| Chicago | I-290 W, Morgan St to Wolfe Rd | Wed, 2:45 – 4:45PM | 329% |
| Detroit | I-96 W, 6 Mile Rd to Walled Lake | Wed, 2:00 – 4:00PM | 211% |
| Houston | I-10 W, Sjolander Rd to TX-330 | Wed, 3:15 – 5:15PM | 344% |
| Los Angeles | I-5 S, Colorado St to Florence Ave | Wed, 3:45 – 5:45PM | 385% |
| New York | I-495 E, Borden Ave to Little Neck Pkwy | Wed, 2:30 – 4:30PM | 482% |
| San Francisco | I-80 E, I-580 to San Pablo Dam Rd | Wed, 4:00 – 6:00PM | 278% |
| Seattle | I-5 S, WA-18 to WA-7 | Wed, 4:00 – 6:00PM | 257% |
| Washington DC | I-95 S, I-395 to VA-123 | Wed, 2:00 – 4:00PM | 230% |
Best time to travel during Thanksgiving
Daily Worst and Best Times to Travel
Day
Worst Time
Best Time
Wednesday
12:00 – 8:00PM
After 9:00PM
Thursday
12:00 – 3:00PM
Before 11:00AM
Friday
1:00 – 4:00PM
Before 11:00AM
Saturday
2:00 – 7:00PM
Before 12:00PM
Sunday
1:00 – 7:00PM
Before 12:00PM
Source: INRIX
Covid-19 and Thanksgiving
Over a million new cases this past week of covid in the United States alone makes people weary of Thanksgiving. One of the safest measures is to stay at home with the people you live with. However, Thanksgiving is one of the most traveled holidays. With that being said, You need to take extra precautions when you travel and when you are around people you have not seen in a while. Some states have implemented restrictions on household guest. While many states have not. Being safe should be a top priority for everyone in these challenging times. The United States has seen 13.4 million cases of the coronavirus since its invasion.