Every time we crank our cars, we accept the risks of operating an automobile. But, in most cases, we uneventfully carry out our errands or drive our commute, mindlessly head out to some leisure activity or another, then return home safe and sound. For most of us, this is the norm, but if we live near one of America's deadliest highways, that risk might be somewhat greater.
For various reasons, these roads are dangerous, some because of the environment, others because of other drivers, some because of heavy traffic, and some are just difficult to even get to.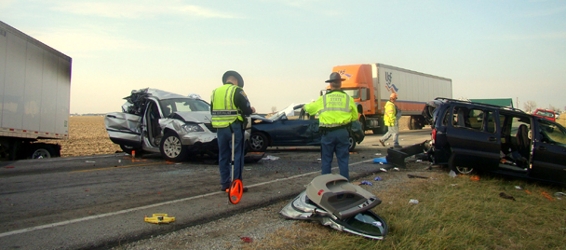 America's Deadliest Roads
From sea to shining sea, there are roads that connect us. Some are just more frightening than others. This article will discuss the most dangerous roads in the United States. While we suggest you always practice caution, these roads may require even more awareness and care.
Colorado's Million Dollar Highway
This road winds its way through Red Mountain Pass in the San Juan Mountains. U.S. Route 550 is one of the most strikingly beautiful roads in the country. On this beautiful highway, you will enjoy some of the country's most awe-inspiring views, but the price of admission is the white-knuckle drive it takes to enjoy them, featuring sheer drops, no guard rails, potential rock slides, and at times, treacherous weather.
The Million Dollar Highway's nickname began as sort of a joke. There are steep cliffs, hairpin curves, and an elevation of over 11,000 feet above sea level. One of the motorists traveling the road declared that to drive that road again. You'd have to pay her a million dollars.
The Overseas Highway in Florida
The second most dangerous road in the country, along with 17 others on the 100 Deadliest Roads in America list, is in Florida. Hwy 1 is typically straight, and because of this, drivers feel justified in driving at breakneck speeds. 
The southern part of the highway connects Miami with the Florida Keys by miles of bridges. The sights and the speeds, paired with the cellphone usage, have made the Overseas Highway a dangerous and problematic drive.
Lake Pontchartrain Causeway in Louisiana
Holding the Guinness World Record for the longest over-water bridge, at almost 24 miles long, can be an exhilarating drive or a terrifying one. It takes approximately half an hour to drive across the lake, and at times, you will not be able to see land.
When the weather is uncooperative, this drive can feel particularly treacherous. Law enforcement has been known to help drivers across the lake when deep fog settles in.
I-4 Between Tampa and Daytona Beach, Florida
While exploring the U.S.'s deadliest highways, we are back in Florida. This stretch of I-4 is considered the deadliest interstate in the country. This 132-mile stretch of interstate is notorious for its tragic 1.41 fatalities per mile. Some speculate that the drive is so dangerous because tourists renting cars, and heading to Orlando, are looking at their telephones and driving vehicles they are not comfortable in, and the distraction of these elements causes accidents.
I-45 Between Galveston and Dallas Texas
This part of the American roadway system is not dangerous because of the terrain, but the other drivers on the road are what increases its hazardousness. That would be the case for I-45.
The sheer number of drivers, combined with distracted, complacent drivers, has cemented 1-45 a place among the deadliest American roads. For every 100 miles of interstate, there are 56.5 fatalities.
Some Runner-Ups for Deadliest Roads
Because of traffic, road design, the terrain, and the laws that govern the roads, dangerous highways can be found throughout the state. Here are a few that are runner-ups to our most dangerous highway list.
I-10 Arizona
I-15 Nevada and California
I-285 Georgia
U.S. Route Hwy 17 South Carolina
Dalton Hwy, Alaska
Hwy 2, Montana
Road to Hana, Hawaii
Practice Care To Avoid Accidents
Driving defensively saves lives. Sometimes, it is impossible to avoid dangerous highways, but if you find yourself unable to, there are some things you can do to make your trip somewhat safer. Wear your seatbelt, do not travel while fatigued or under the influence, do not text or participate in distracting behaviors while driving and be aware of your surroundings.

If you have been involved in an accident, no matter the roadway, reach out to Elk & Elk Co., Ltd in Seattle with any questions you may have about your case.