Auto Accident Doctors
Carrollton all injury rehab has been providing relief for car accident victims for over ten years. With over six locations located throughout the north Dallas Texas area, patients can easily find a location convenient to them.
We utilize the latest rehabilitation technology as well as state of the art diagnostic and testing procedures. We can treat a personal injury case from start to finish, including surgical procedures if required.
Call for a
FREE

consultation regarding your auto accident injuries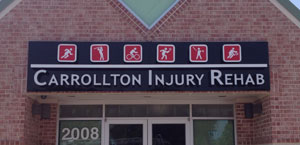 All Injury Rehab is a multidisciplinary Medical clinic, including surgical center for auto accident injuries, workers compensation
All injury rehabilitation is one of the few multidisciplinary auto accident treatment centers in Carrollton, Texas. In cooperation with Victory Surgical center, All injury Rehabilitation can treat minor soft tissue injuries and injuries that require surgery. All injury rehab is now the leading authority in auto accident treatment in Carrollton and North Dallas, Texas.
Active & Passive Therapy
Cardiovascular Strengthening
Chronic Pain Management
Electrical Stimulation
Evaluate & Test
Gait Training
General Surgery
Hand Surgery
Joint Mobilization
Myofacial Release
Neuromuscular Re-education
Orthopedic Surgery
Pain Management
Physical Wii Rehab
Podiatry
Return To Work Programs
Spinal Surgery
Sports Medicine
Therapeutic Exercise
Ultrasound
Work Conditioning
We offer services for general chiropractic, auto accident patients, sports injuries and workers compensation. Services include treatments include
Lower Back Pain Treatment
Upper Back Pain Treatment
Neck Pain Treatment
Chronic Headaches Treatment
Severe Migraines Treatment
Workers Comp
Whiplash Treatment
Sports Treatment
Shoulder Pain Treatment
Facet Syndrome Treatment
Spinal Stenosis Treatment
Whether you have been hurt on the job, injured playing sports or in an auto accident, All injury Rehabilitation has all the necessary Doctors and tools to get you back in optimal health.
We Accept Health Insurance
Carrollton All Injury Rehabilitation accepts most Major Medical Health Insurance, Letters of Protection, Auto Insurance, Personal Injury Protection (PIP), MedPay, and Workers Compensation. Call now to have our insurance specialists verify your benefits for you free of charge. We also gladly offer recommendations and referrals for lawyers in our areas.
If you are a Dallas attorney and are needing quality medical care for your auto accident clients, look no further. All injury rehabilitation can treat your personal injury clients from start to finish. We have been working with attorneys for over 10 years and accept LOP's. In most cases we can get your clients in the same day
Call us Today
972-664-4878 (
HURT

)

Locations

Carrollton Rehab & Chiropractic
2008 E. Hebron Pkwy Ste 130
Carrollton, TX 75007
Office: (972) 664-4878 (HURT)

McKinney Rehab & Chiropractic
1970 N. Central Expy. #170
McKinney, TX 75070
Office: (214) 544.2886 (AUTO)

Mesquite Rehab & Chiropractic
3330 N. Galloway Rd. #324
Mesquite, TX 75150
Office: (214) 239.2185

Plano Rehab & Chiropractic
905 W. Parker Rd.
Plano, TX 75023
Office: (972) 964.7696

Richardson / Garland Rehab & Chiropractic
901 N. Jupiter Rd. #110
Richardson, TX 75081
Office: (469) 330.2225 (BACK)

Rockwall Rehab & Chiropractic
2920 Ridge Road
Rockwall, TX 75032
Office: (972) 772.4878

Victory Medical Center
2301 Marsh Ln
Plano, TX 75093
Phone: (972) 664-4878 (HURT)