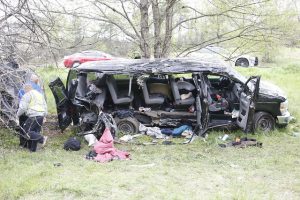 GA Officials are concerned with the jump in Auto accident deaths in the first quarter of this year. Compared with last year we have a 70 more than last year which is a 31% increase according to a AJC investigation. There have been 295 fatalities in the first quarter of 2015. A number of the people killed on Georgia's roadways were not wearing seatbelts According to GDT.
Robert Lewis Burns, Jr who was a founding member of Lynyrd Skyrd, left the roadway hitting a tree in Cartersville, he was not wearing a seatbelt.
The increase comes from several factors including single auto accidents for which the driver lost control, or veered out of there lane. Distracted driving, speeding, or impaired driving could be the one of the causes of the rise in single auto accidents across Georgia. The governor's office of highway safety reported that more people are on the roads and driving. More people are employed and lower gas prices mean more drivers on the road. GDOT is trying to pin down some of the trouble spots. Most of the increases have been in the northeast and southwest counties of metro Atlanta.
They're also stressing that one bad quarter is not necessarily a trend. While some experts want to blame it on a recent rise in speed limits on interstates and state highways in metro Atlanta, GDOT says most of the increases in fatalities have been on other state routes not included in the speed limit changes.
Georgia isn't the only place where this is occurring. The National Safety Council says there's been a 10-percent increase in deaths across the country. South Carolina reported a 14% increase in traffic fatalities this quarter.
Distracted Driving
Smartphones seem to be the cause of a lot of accidents in Georgia. A number of drivers may try to text, email, or facebook while they drive which is highly dangerous. Taking your eyes off the road for one split second could end in an auto accident.
There are three main types of distraction:
Visual: taking your eyes off the road;
Manual: taking your hands off the wheel;
Cognitive: taking your mind off of driving.1
Distracted driving activities include things like using a cell phone, texting, putting on makeup, arguing with the children in the backseat, eating, looking for a radio station. Using in-vehicle tech can also be sources of distraction. While any of these distractions can endanger the driver and others, texting while driving is especially dangerous because it combines all three types of distraction
Distracted Driving Kills
In 2012, 3,328 people were killed in crashes involving a distracted driver, compared to 3,360 in 2011. An additional, 421,000 people were injured in motor vehicle crashes involving a distracted driver in 2012, a 9% increase from the 387,000 people injured in 2011.1
In 2011, nearly one in five crashes (17%) in which someone was injured involved distracted driving.
In December 2012, more than 171 billion text messages were sent or received in the US.
CDC Distracted Driving Study
A CDC study analyzed 2011 data on distracted driving, including talking on a cell phone or reading or sending texts or emails behind the wheel. The researchers compared the prevalence of talking on a cell phone or texting or emailing while driving.
Key findings included the following:
Talking on a cell phone while driving
69% of drivers in the United States ages 18-64 reported that they had talked on their cell phone while driving within the 30 days before they were surveyed.
Texting or emailing while driving
31% of U.S. drivers ages 18-64 reported that they had read or sent text messages or email messages while driving at least once within the 30 days before they were surveyed.
What are the risk factors?
Some activities—such as texting—take the driver's attention away from driving more frequently and for longer periods than other distractions.
Younger, inexperienced drivers under the age of 20 may be at increased risk; they have the highest proportion of distraction-related fatal crashes.
Texting while driving is linked with drinking and driving or riding with someone who has been drinking among high school students in the United States, according to a CDC study that analyzed self-report data from the 2011 national Youth Risk Behavior Survey. Students who reported engaging in risky driving behaviors said that they did so at least once in the 30 days prior to the survey. Key findings from the study revealed that: Nearly half of all U.S. high school students' aged 16 years or older text or email while driving.
Students who text while driving are nearly twice as likely to ride with a driver who has been drinking and five times as likely to drink and drive than students who don't text while driving.
Students who frequently text while driving are more likely to ride with a drinking driver or drink and drive than students who text while driving less frequently.
Georgia Law: Texting is banned . Cell phone use is banned for drivers under 18 .
Many states are enacting laws—such as banning texting while driving, or using graduated driver licensing systems for teen drivers—to help raise awareness about the dangers of distracted driving and to keep it from occurring. However, the effectiveness of cell phone and texting laws on decreasing distracted driving-related crashes requires further study.
On September 30, 2009, President Obama issued an executive order prohibiting federal employees from texting while driving on government business or with government equipment.
On September 17, 2010, the Federal Railroad Administration banned cell phone and electronic device use of employees on the job.
On October 27, 2010, the Federal Motor Carrier Safety Administration enacted a ban that prohibits commercial vehicle drivers from texting while driving.
In 2011, the Federal Motor Carrier Safety Administration and the Pipeline and Hazardous Materials Safety Administration banned all hand-held cell phone use by commercial drivers and drivers carrying hazardous materials.