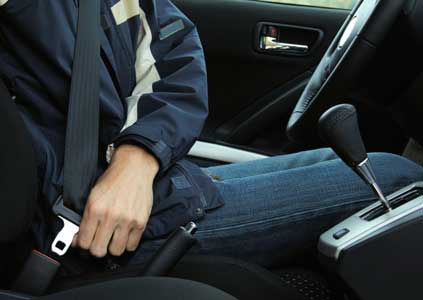 Seat Belt injuries in a car accidents are common. These can be caused by a number of factors and none at all. Injuries might include damage to the shoulder, stomach, chest, ribs, neck, hips. Wearing a seat belt can save your life and reduce injury, but wearing one improperly can cause more severe damage.
Wearing your seat belt decreases the chance of injury you may sustain in an auto accident. However, a seat belt alone does not guarantee that you won't get hurt in a car wreck. There are times when the use of seat belt itself can add to your injuries.
Walking away from the accident unscathed
I'm sure many of us have heard a story that involved someone that was not wearing a seat belt and walked away without a scratch from a major car accident. They are designed to lock when motion rapidly changes. Have you ever tried to pull one very rapidly, it doesn't move, it locks. This is what the it does when you are involved in a car accident.
One of the most discussed subjects about safe driving. Some say that it isn't necessary to wear a seat belt because you might even get more seriously injuries. Others are claiming that by wearing a seat belt, you might save your own and other people's lives. However, what is the truth and how are you going to know what is really the right thing to do? These are all the myths and facts about wearing them and seat belt injuries. It will assist you to decide if wearing one is essential or not. In most states it's the law.
Myths surrounding seat belts
Myth 1: seat belts are uncomfortable and restrict your movement
People are claiming that they don't wear their seat belts, especially when they are driving because it is uncomfortable and restricting their movements. And, they are claiming that they will be able to handle the car better when they aren't restricted. You might not believe this, but this is the excuse of many people that are driving without buckling up. Or, that is a passenger that doesn't wear one. This is a myth and really not the truth. This is just an excuse for not wearing one.
Fact 1: This isn't the case if you are adjusting your seat belt correctly
Most vehicles have seat belts that can be adjusted. Meaning that you can adjust it in a way that is going to be the most comfortable to you. Making the excuse that you are feeling uncomfortable really not the truth. You should adjust it according to you. So that you can feel comfortable and in such a way that you don't feel restricted.
If your vehicle doesn't have this option to adjust, then you can go to a mechanic and install this feature. This would be for an older car that has lap belts, or none at all. The fact is that if you are adjusting your seat belt correctly, you will not feel uncomfortable and restricted. It just might save your life.
Myth 2: The seat belt can cut your head off during an accident
Many people don't wear a seat belt because of they believe that it can cut your head off during a car accident. That, they are going to be much safer without one than with.
Yes, there might be cases where this can happen, but this is mostly children that are sitting in the front of the car, where they don't belong. Children are safer in the back seat a rather in the front seat. It is the law to put children of a certain age in the backseat, unless its a truck. This is actually a myth that isn't interpreted correctly.
Fact 2: Again, not going to happen if you are adjusting your seat belt
It will only cut off your head in a serious car accident and if it isn't adjusted to fit you comfortably and correctly. So, again this isn't going to happen if you are adjusting it correctly.
The facts are that there are only a few people that were decapitated during an accident, because of their seatbelts. And, then there was a good reason for it. It wasn't adjusted correctly, or a young child was sitting in the front seat.
Myth 3: You are a good driver you don't need to wear a seat belt
This is a favorite excuse that is being used. You are good driver and don't need to wear a seat belt. They are only for people that aren't good drivers or that are still new to driving.
They think that they won't make a mistake because they have never been in a car accident before. But, this is also the problem. They think that because they weren't in an accident before, they don't need a seat belt at all. This is a myth and this can be a decision that might mean a serious injury or even death.
Fact 3: Everyone can be in an accident. It might not be your fault
This is a law for everyone to wear a seat belt. And, that even those that are the best drivers can be in an accident. It might not be your fault, but the injuries for not wearing one will be your fault.
If you are really as a good driver as what you claim, then you will know the importance of wearing one. Those that don't wear a safety belt are not responsible drivers .
Myth 4: My car has airbags. I don't need my seat belt
If your car has airbags, why should you then use your safety restraint? The airbags will prevent you from going through the windshield. This is something that many people are claiming. And, there is only some truth in it.
Yes, the airbags might assist you to not go through the windscreen, but this doesn't mean that you will not be thrown through the side window or back window. So, to say that you don't need to wear one because your vehicle has airbags is a myth.
Fact 4: Having airbags doesn't mean that your life is going to be saved
Can you really say that an airbag will save your life when you don't wear your seat belt? Maybe in a light car accident. But, what will happen when you are in a collision where your vehicle is rolling. Then, you will be thrown out of the car and you might even land underneath the vehicle, and sustain serious injury.
This is a fact that your airbags won't save your life when you don't use your seat belt. It might prevent more serious injury, but it also depends on the type of car accident you are in. Something that you can't predict beforehand.
Seat belts in vehicles are there for a reason. To wear it and to make sure that you are not injured as much during a car crash. However, because of these myths that people believe, they don't wear theirs and are sustaining some serious injuries that are going to take a longer time to heal.
It is better to make sure you know the facts around seat belts. Know the statistics about people getting saved by a seat belts than a seatbelt that caused an injury. Then, you will see that wearing a seatbelt is important, especially if you don't want to be injured.
Reasons why people don't wear seat belts
Afraid they will be trapped in there car after an accident: It has been shown you are 25 times more likely to die if you are thrown out of your car during an accident. In the event of a fire or submergence, if you wear a seat belt its highly likely you will be conscious and can get out versus not wearing one and unconscious.
I'm a good driver, I won't be involved in a car accident: Sometimes even the best drivers have car accidents, its the bad driver that causes the accident. Some people think they can avoid all car accidents, but that's just not the case. Car accidents can happen in a split second, in most cases you can not react quick enough.
Ill brace for impact: This is not probably a good idea, even if you had time to brace for impact, the impact itself would probably injure what ever body part you are bracing with.
I've got an airbag, who needs a seat belt: Airbags were designed to work with them, not without. Airbags increase the effectiveness of a seat belt by 40%.
They are uncomfortable: Modern car seat belts are not uncomfortable at all if worn properly.
Seat belts can cause injuries in a car accident
Old cars had just lap straps. Can you imagine what would happen to you in a head-on collision. Although your body would stay in the seat, your head would go forward and hit the steering wheel, depending on seat position. Modern seat belts have a lap and a shoulder strap. The shoulder strap keeps your head from being thrown forward into the steering wheel or dash board.
Some people put the shoulder strap under there arm. If you had an accident with the seat belt on in this manner, you would probably break some ribs, sternum, or suffer some other type of serious injury. It might be wise to wear one the way they were intended. Injuries or far worse injuries can be avoided by wearing it properly.
Injuries as a result of seat belts
Ribs or chest injury:
Wearing or not wearing a seat belt properly can injure your ribs, chest. Wearing it under your arm instead of over your shoulder can result in these types of injuries if you are involved in a car accident.
Head trauma, closed head injury:
Putting the shoulder strap behind your back or not having a shoulder strap at all can cause your head to strike the steering wheel or dashboard.
Heavy bruising to the stomach and chest:
In a car accident, your car momentum stops almost immediately in a car accident, but your body does not. Your body gets thrust into the strap. This can cause heavy bruising in some accidents. Bruising is probably the most common injury.
Shoulder injury:
Because it comes right across your shoulder, this is a common injury during a car accident
How these Seat Belt Injuries Occur
Seat Belts are intended to lock when movement quickly changes. In a car wreck, a vehicle arrives at a sudden stop, causing a seat belt to lock. While a seat belt may save you from extreme injuries or death, it is entirely conceivable that the seat belt itself can cause injury to the driver or passengers.
Types of Seat Belt Injuries
In a car wreck, your car stops very quickly in a collision between vehicles. However, your body does not. Your body gets pushed into the strap and the strap will lock. It can cause substantial injuries.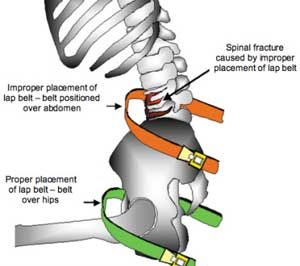 Some of the injuries caused by seat belts worn properly and improperly are given below:
Abdominal Injuries
Bone Fracture
Brain Injury
Bruising
Chest injuries
Concussion
Disfigurement
Head Injury
Internal Bleeding
Internal Injury
Paralysis
Paraplegia
Spinal Cord Damage
In the case of accidents, your body would remain in the seat, but your head would go ahead and hit the steering wheel. Today's seat belts have a lap and a shoulder strap. The shoulder strap shields your head from being tossed forward into the steering wheel or dashboard. A few people put the shoulder strap under their arm.
If you had an accident with the seat belt under your arm, you may break a few ribs, sternum, or endure some other sort of injury.

Older cars and trucks had only lap straps. They can cause internal injuries to the abdominal area or heavy bruising the abdominal area. If is a fact that wearing your seatbelt is safer for you than not wearing one in the event of an accident.
Recent Studies show 84% of Americans now wear seat belts, while roughly half of the law enforcement community buckle up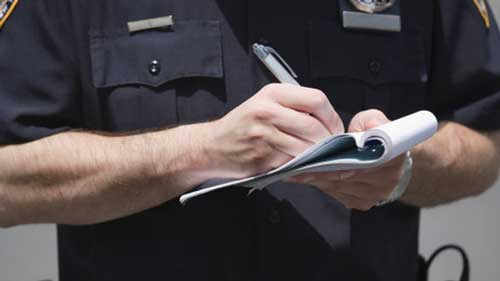 You heard that right, roughly 50% of law enforcement wear seat belts. 19% of officers killed in accidents were ejected from their vehicles. There is a fifty percent chance the officer giving you a ticket for not wearing a seat belt is not wearing his.
The National Highway Traffic Safety Administration determined that 139 officers died when ejected from their vehicles in crashes between 1980 and 2008 and that only 45 percent of the 733 officers who died in crashes during the period had their seat belts fastened.
Wearing your seat belt is not only the law, but can reduce your chance of injury in a car accident
You are less likely to be injured if you buckle up when you drive. Not only is it the law, it could save your life. In conjunction with airbags, seat belts are safe and effective. If you suffer an injury while wearing one, think about what your injury might have been not wearing one. Be safe and buckle up.
How to prevent Seat Belt Injuries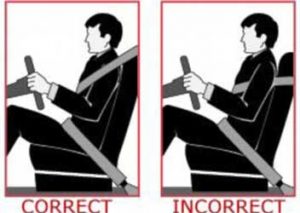 Correct position of the seat belt on a vehicle is one of the keys to the counteract injuries caused by seat belts.
Some preventive measures are given below:
The shoulder belt should run to the center of your chest and far from your neck.
The lap belt should be run over your hips and beneath your stomach.
No belt should be too tight or so loose as to enable the occupant to move about in the seat.
The devices such as pretensioners and load limiters should be in good working condition. If your airbag light is on, your tensioners could need replacement.
The driver of the vehicle is in charge of making sure that all occupants are wearing their seat belts correctly. Many injuries could have been averted if the occupants were wearing their safety belt correctly.
To reduce the chances of being injured  in the event of a car wreck, one should wear it in the proper position and should drive with care. As always, if you have a seat belt injury and need a doctor, you can find one near you