Halloween has always been one of children's magic holidays. They go to school and have their classroom party and get to go in the haunted house. Afterwards, they will get to go trick or treating. However, this is where parents start to get concerned. Pedestrian safety is the main concern on Halloween night.
If the Halloween falls on a Monday, Tuesday, Friday, or Sunday, kids are between three and ten times more likely to die in pedestrian collisions on Halloween. For unclear reasons If Halloween falls on a Saturday, pedestrian fatalities drop.
Children are more likely to be killed by a car on Halloween than any other holiday. Oct ranked 2 in deaths by motor vehicle. 3700 people died in vehicle crashes in October.
Halloween Quick Facts
Children who will be out tonight-41 million
Halloween is the deadliest day for children & pedestrian car incidents
You are 3-10 times more likely to be involved in a pedestrian related accident on Halloween
60% of Halloween accidents happened between 5 and 9 pm
30% of Halloween pedestrian accidents occurred in a crosswalk or intersection
32% of fatalities were ages 12-15, 23% were ages 5-8
63% of Children don't carry a flashlight
About 83% don't have any reflective tape or reflective clothing
69% of parents do not accompany their kids trick or treating while they are out on Halloween
12% under the age of 6 are allowed to go out on their own
52% of auto accident fatalities on Halloween are alcohol related
41 People are hurt in house fires on Halloween
House fires cause around 13 million dollars in property damage
85% of parents bring alcohol to Halloween parties
65% of parents never discuss the safety of their children on Halloween
Covid 19 and Trick or Treating this Halloween
The CDC has recommend that children do not replace a cloth or surgical mask with a costume mask. Costume Mask, according to the experts, will not stop the spread of coronavirus. Mask are extremely encouraged for activities inside a dwelling. Anyone under 12 should still wear a mask trick or treating this Halloween. In other words, wear a mask under your mask
Travel in small groups with family or friends, don't go with strangers.
Halloween safety while trick or treating
Some of these are a given. Never let your children eat any treat until they get home. Parents need to check them out to make sure they are safe. Kids never need to go into someone's home or car, unless of course it's someone they know.
Costume safety
Make sure you pick a costume or make one that won't cause any hazards.
Use glow sticks for trick or treating on Halloween
Make sure they have some sort of reflective tape on them
If you buy a costume, make sure it is fire resistant or flame resistant (this does not mean the costume won't burn, it just means it won't go up like a roman candle).
Avoid costumes that limit visibility. (Hoods, Mask, Etc.)
Make sure they are not carrying real items that are dangerous (knives, swords, guns, etc)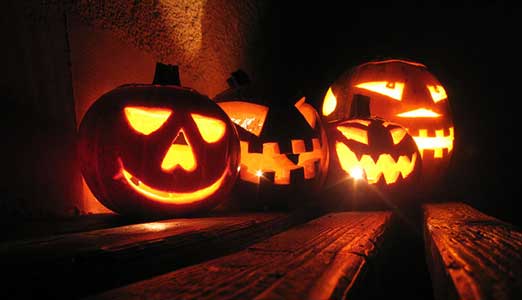 Don't use your phones; don't let your children use their phones while trick or treating. They need to be paying attention to where they are walking.
Make sure you accompany your children-don't let them walk alone trick or treating this Halloween season.
Make sure to check all the loot before eating the treats
Ration the loot, don't need to see the dentist too soon
Bring a flashlight with extra batteries
Make sure to walk on sidewalks if available
Walk facing traffic if no sidewalk is available
Dont eat homemade treats, throw them away
Only eat factory wrapped candy
Turn on mobile tracking for your kids
Consider making your children or Trick or treat with other kids in groups
Walk, don't run. Children get excited, but they need to walk
Only visit homes that are well lit and have porch lights on
Never go into anyone home, unless it's yours
Parents need to always check the Candy, if it is not commercially wrapped, chunk it in the trash. If your child is allergic to anything, make sure to remove that from the loot as well.
For older children who are going out alone on Halloween
Make sure everyone knows what time they need to be home if your children are going out alone
Agree on a route that your kids will take so you know where they are at all times.
Make them take a communication device and communicate with parents
They need to never ever get into a strangers car
Make sure their route takes them in well lit areas
Safety for the home on Halloween
Safety resides in the home as well as on the street for Halloween trick or treaters. Please be mindful of things on your front porch, steps, lighting, etc. You would never want a child or adult to have an injury on your personal property. If some of these cannot be done, maybe you should consider turning out the lights and watching a game.
Make sure your lights are on this Halloween for trick or treaters
Pets should be put up , don't chance your "nice" dog not biting anyone
Make sure your walkway is well lit and obstacles are out of the way of foot traffic
Instead of candy, give out things kids can use such as pencils, erasers, stickers, chalk, etc. Your house will be avoided every year after this one for sure.
Candles should be put in safe places as not to cause a house fire
Give candy outside. Don't let kids or adults' for that matter come on your home
Don't set up a community pot of candy for this Halloween for trick or treaters
Safety Tips for Motorists
If you are traveling with your kids or driving during this halloween trick or treating you may need to follow some simple guidelines to be safe
Don't drink and drive
No speeding
Ditch the cell phone
Turn on your headlights earlier than normal
Watch for children, they will be everywhere this halloween trick or treating. Some may be wearing dark clothing
Don't let young drivers drive younger kids
Enter and exit intersections and driveways more cautiously
There are a lot of parents who drive through the neighborhoods with carloads of children trick or treating. While it is good they are safe, this puts a lot more traffic on neighborhood roads this Halloween than normally would be there. So for those parents who are driving the minivan full of kids trick or treating, pay attention.
Halloween is an exciting time for children and adults. Your children need to be safe while trick or treating. Checking candy can be a hard thing to do if you don't know what to look for. You can go here for a little guide on how to check it. Make sure your kids have fun and build some memories trick or treating this Halloween, and be safe.