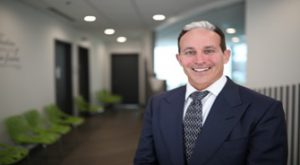 Rx Wellness Spine & Health
950 Herndon Parkway #130
Herndon, VA 20170
Meet the Doctor
Auto Accident Injury Doctor- Dr. Philip Golinsky, serving Herndon, Virginia
Dr. Philip Golinsky is an expert in chiropractic care focused on auto accident injuries. He has been treating auto injuries for over 22 years. His practice Rx Wellness Spine & Health is ranked #1 with the most patient-reviews in Northern Virginia. Auto Accident Injury cases (also categorized as Personal Injury) need expert doctors in this field to treat their injuries. Don't delay in seeking medical assistance after you've been injured in a car accident.
Call Dr. Golinsky as soon as possible after a car wreck to avoid long term damage and pain. Cars and other motor vehicles going LESS than 5mph can cause whiplash and other related injuries. Below are frequently asked questions and Dr. Phil's response:
Should I wait to go see a Doctor after my auto accident?
NO, absolutely do not wait to see a doctor after a motor vehicle accident. If you wait, it may end up costing you thousands of dollars in medical later. You may have an underlying soft tissue injury. Soft tissue injuries and symptoms of whiplash may take up to a few days to show after an accident.
These injuries do not resolve on their own, so waiting only prolongs your pain. Additionally, waiting to see a doctor is called a gap in medical care. Most insurance companies will look at your records to compare the date of accident versus the amount of time it took you to seek treatment. They may deny your claim to injury. Go to your auto accident doctor immediately following your car accident whether you suspect injury or you have been injured.
Will I have to pay out of my pocket to go see a Doctor?
If you were not at fault in the car accident and you received a claim number there is no out of pocket expense to see a doctor. The liable party is responsible to pay for your medical treatment. If you are a victim of a hit and run, or were at fault in an accident, there is still another option for you to use.
If you have auto insurance you may Med-Pay (Medical Expense Benefits). Call your car insurance company and see if you have Med-Pay. If you do not have claim number or Med-Pay, you can still use your standard health insurance to cover your treatment.
Conditions
Neck/Shoulder pain
Headaches/Migraines
Whiplash
Auto Accident Injuries
Numbness/Tingling
Muscle Tension
Knee pain
Services
Car accident injury care
Chiropractic care
Pain management
In office X-rays
Spinal Decompression
Deep Tissue Cold Laser
Physical therapy
Do I need good documentation by my Doctor?
Doctor documentation is the proof of your injury. Attorneys specializing in Personal Injury will confirm this. If there is little or no documentation, it will prove difficult to receive the settlement you deserve. Extensive and detailed documentation is a critical asset to your auto accident case. Your lawyer will need to provide sufficient medical records to prove your injury during the litigation process. Dr. Golinsky is experienced with the documentation requirements. Call for the best and most experienced care: 703-904-9666.